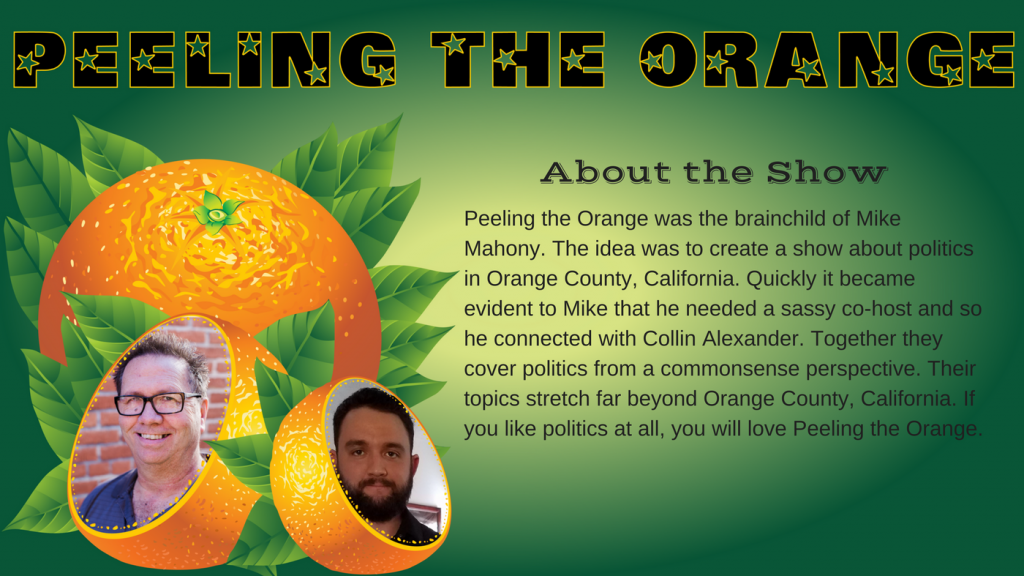 Peeling the Orange
What is Peeling the Orange? It is a crazy, cynical, commonsense approach look at politics and how they affect life in general. It is a blunt look at the world today and provides insightful commentary about things going on in the news. Peeling the Orange is the first political show on Yogi's Podcast Network (with Liberty Revealed being the other). The hosts of the show are Mike Mahony and Collin Alexander. These two met via Facebook and became fast friends because they are so similar yet so different at the same time. Collin is quick-witted, funny and sarcastic. He cuts to the core of any issue quickly. Mike is sarcastic, funny and analytical. He tends to take a more moderate approach on the issues. Together their chemistry brings the topics to life. If you like politics you've just located your new favorite political podcast.
This political podcast is unlike any other.  The hosts are not afraid to approach any topic. They are always honest with how they feel about the topic. There is no political correctness in this political podcast. Additionally, you won't get bogged down in liberal vs. conservative politics. This political podcast just speaks the truth as seen through the eyes of its hosts. We know you are going to enjoy Peeling the Orange, so please give it a try!
Peeling the Orange Schedule
The show releases new episodes monthly on the last Saturday of the month.
Peeling the Orange Episodes