Some of the links in this post are affiliate links. This means if you click on the link and purchase the item, we will receive an affiliate commission at no extra cost to you. All opinions remain our own.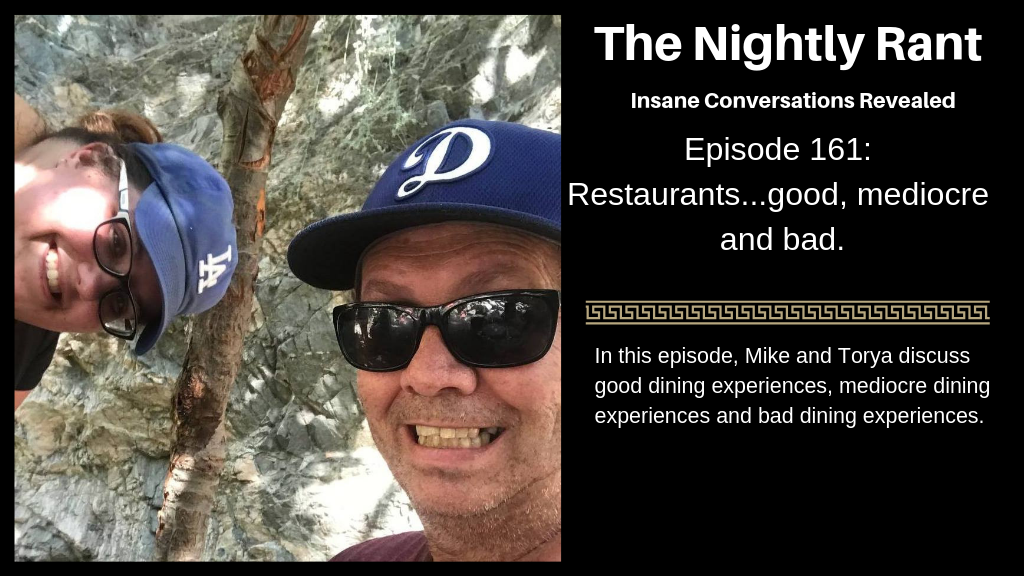 The Nightly Rant Episode 161 Summary
In this episode, Mike and Torya discuss the restaurants they recently visited.
Listen to The Nightly Rant Episode 161
The Nightly Rant Episode 161 Show Notes
Mike and Torya visited restaurant land this week. There is an obvious reason most restaurants fail after one year. Mike says either the food is damned good or it sucks. Mike and Torya have experienced both in the last week.
They begin by discussing the bad. This place they went to called Urban Cup just opened near their home. The prices were high, the noise level was extremely high. There is not enough seating for customers. When the food came it was not even edible. They wound up at McDonalds.
Next on the list is Pizza Press. Mike says this one is just average. It is just another Subway style pizza place with branding around newspapers. It is in a stupid mall called The Source. This mall barely had any tenants and has been open a long time. Mike says that Pizza Press was just OK. Torya liked it a lot.
Finally, they speak about an Indian buffet restaurant. The staff was amazingly nice. The food was great. The quality of the food was high. The place even offered to let them take a dish of food home since they were closing down for the afternoon. This place is called India Table, 2955 West Ball Road, Anaheim, CA.
The Nightly Rant Episode 161 Links Mentioned
Catch Yogi's Podcast Network on YouTube