Some of the links in this post are affiliate links. This means if you click on the link and purchase the item, we will receive an affiliate commission at no extra cost to you. All opinions remain our own.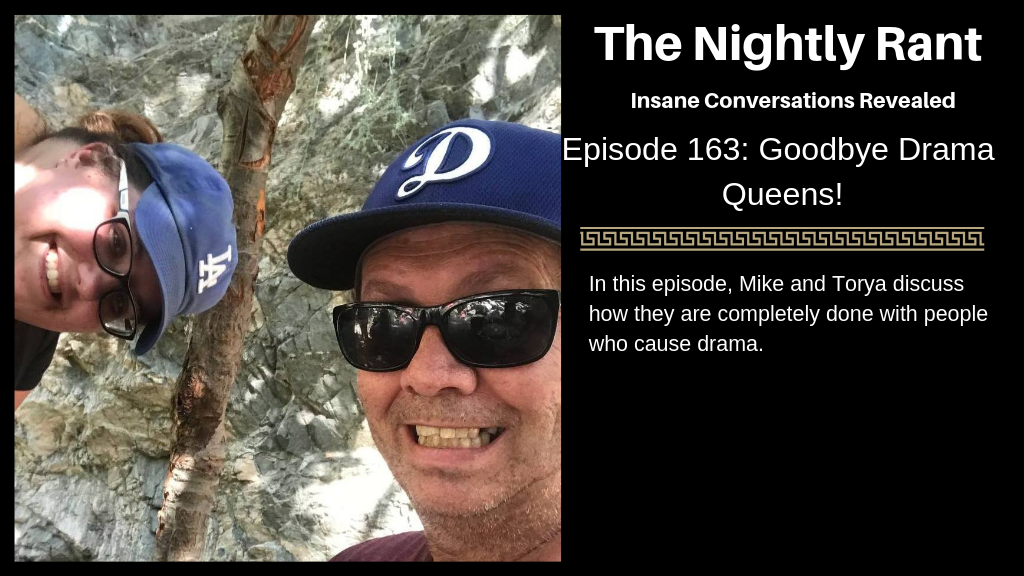 The Nightly Rant Episode 163 Summary
In this episode, Mike and Torya discuss how they are completely done with people who cause drama.
Listen to The Nightly Rant Episode 163
Mike says he is like Alyssa when it comes to drama. He is no longer taking the drama people dish out.
The Nightly Rant Episode 163 Show Notes
Mike tells a story about the Facebook group that covers their apartment building. He explains the drama that someone caused as a result.
This woman had created a carport patio when she moved in over a year ago. This was directly violating the rules and yet she wants to tell everyone else how to act.
Mike then describes how this person private messaged him. He eventually got very blunt and told her that she was being disrespectful. He told her she has a victim mentality. He turned off her ability to message him for a while and that set her off even more.
This person then messaged Torya when Mike blocked her ability to message him. She complains about the treatment she received. She completely lied about the conversation and Torya knew this because she had seen all the messages. Torya nicely asked her not to bring drama to her in box. The woman blocked Torya and Mike on Facebook after that. This got her removed from the group.
This lady believes the manager should be babysitting adults rather than running the building. This leads to a discussion of the rules people rebel against in their building. They point out that there are rules that never get enforced unless they are a huge problem.
The Nightly Rant Episode 163 Links Mentioned
Catch Yogi's Podcast Network on YouTube