Some of the links in this post are affiliate links. This means if you click on the link and purchase the item, we will receive an affiliate commission at no extra cost to you. All opinions remain our own.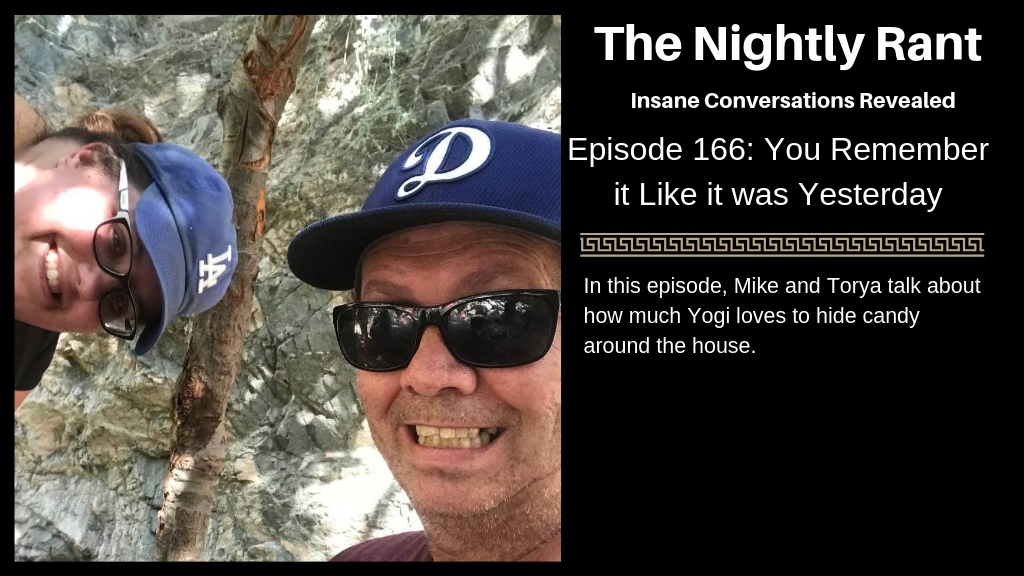 The Nightly Rant Episode 166 Summary
In this episode, Mike and Torya discuss how they are completely done with people who cause drama.
Listen to The Nightly Rant Episode 166
The Nightly Rant Episode 166 Show Notes
Mike and Torya went to Noodle Street for dinner. Mike loved his food. Torya not as much. Mike explains that his beef noodles had no beef and they immediately took care of the problem for him.
Apparently Yogi hid a bunch of candy while they were gone for dinner. This is not the first time he has done that. He loves hiding candy in the furniture so he can eat more candy when we leave.
Torya tells a story about Yogi's initial time hiding candy. She remembers it like it was yesterday.
Mike is shocked that Torya is the one who left the candy out. He goes on a rant about that aspect.
Mike continues the story of the restaurant that left his beef out of the dish. He says they handled it quite well. He was impressed by their service.
Mike critiques the food they ate. He then rants about Torya and how quiet she is. He says he is in the mood to riff on any topic.
Torya rants about Mike searching for a burger place near the yogurt place they went to. Apparently Mike made friends with the cashier at the yogurt shop. Mike rants back about how they could have paid for their own yogurt rather than being annoyed he was looking things up.
The show gets interrupted by loud neighbors and that leads to yet another rant about what qualifies as right or wrong.
The Nightly Rant Episode 166 Links Mentioned
Catch Yogi's Podcast Network on YouTube