Some of the links in this post are affiliate links. This means if you click on the link and purchase the item, we will receive an affiliate commission at no extra cost to you. All opinions remain our own.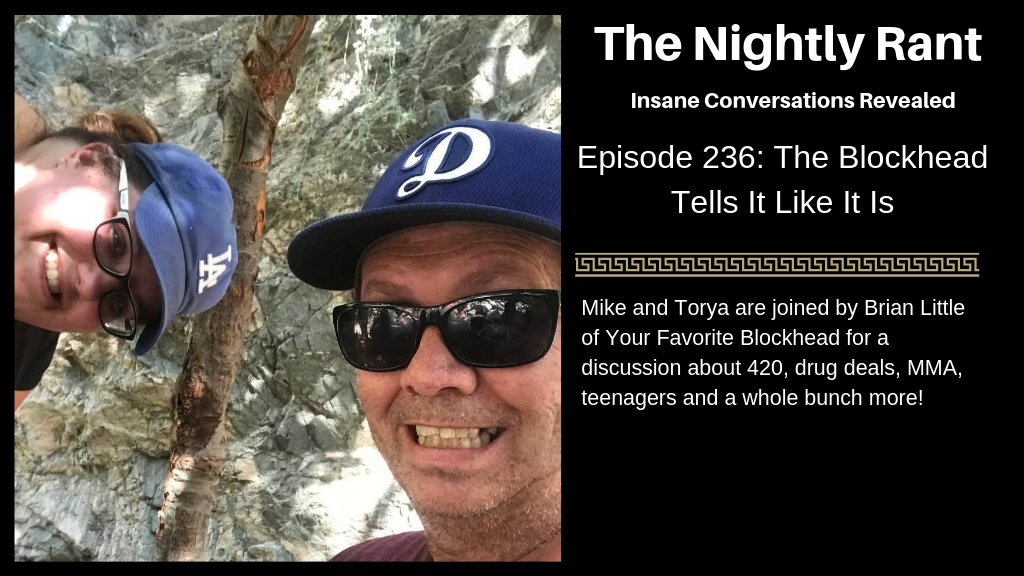 The Nightly Rant Episode 236 Summary
Mike and Torya welcome Brian Little from Your Favorite Blockhead as their co-host tonight.
Listen to The Nightly Rant Episode 236
The Nightly Rant Episode 236 Show Notes
Our show notes are changing. We are now going to use summaries of the show content for you. Let us know what you think!
Mike opens the show announcing that it is 420 day
Mike introduces co-host, Brian Little from Your Favorite Blockhead.
Brian announces he is using a towel today for the end of the show
Brian sends a message to Yogi — "The ranger isn't going to like this, Yogi!"
Mike talks about his insomnia and Yogi's nighttime antics
Mike says Beans is about to be adopted.
Torya says she saw a drug deal in the morning.
They discuss smelly teenagers
Mike explains how Parker became known as Smokey
Brian suggests an app that will allow you to speak into it and it translates from man to woman.
Mike says he loves that Brian is so attached to his dog, Marcie.
Mike talks about how much dogs love their humans
Brian talks about what he thinks is the most exciting news from the MMA world in the last year.
Mike rants about steroids in professional sports.
Mike goes on a rant about Waze messing up his trip this morning.
Call us and leave us a message on our hotline… (657) 529-2218

Podcast launch course coming soon — https://ElitePodcastAgency.com
Authors…find our whitepaper on "How to Market and Sell More Books Than You Ever Imagined" and sell a ton of books with the strategy we outline!
The Nightly Rant Episode 236 Links Mentioned
Catch Yogi's Podcast Network on YouTube