Some of the links in this post are affiliate links. This means if you click on the link and purchase the item, we will receive an affiliate commission at no extra cost to you. All opinions remain our own.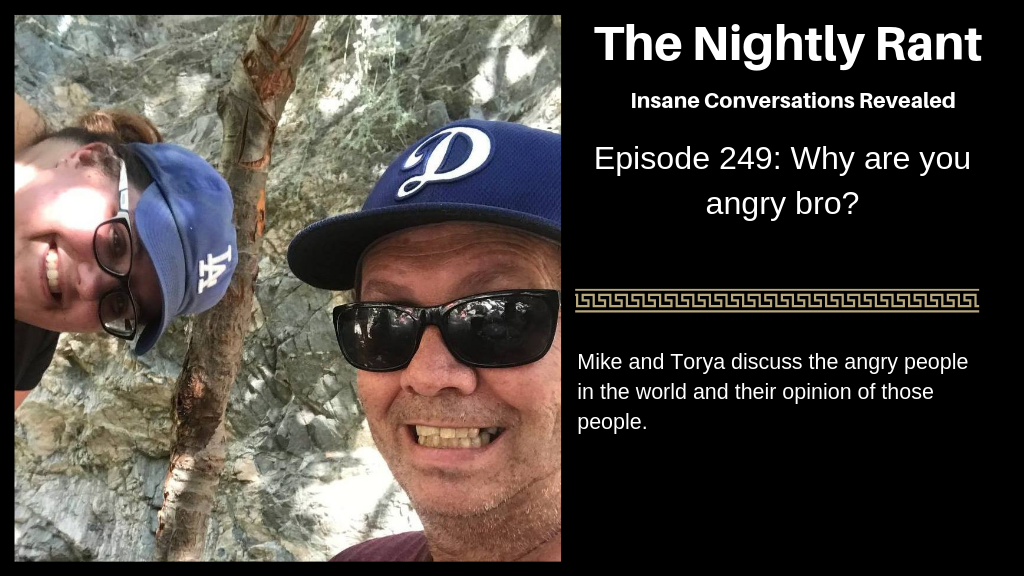 The Nightly Rant Episode 249 Summary
Mike and Torya discuss angry people and their thoughts on them.
Listen to The Nightly Rant Episode 249
The Nightly Rant Episode 249 Show Notes
Our show notes are changing. We are now going to use summaries of the show content for you. Let us know what you think!
Mike wonders why people say cats are more intelligent than dogs.
He rants about the fact that the cats are annoyed by the brand new cat tree.
Torya explains that cats trust nothing. Everything and everyone is suspicious.
Torya tells the story about the Seal Beach police adopting a dog from the Seal Beach Animal Shelter.
Mike talks about how it takes a lot to make him angry.
They debate whether or not there is a "reasonable" grudge.
Mike says that when you approach a situation by allowing people to do what they want, things go more smoothly.
Mike says he does not hold grudges.
Mike doesn't understand why someone who disagrees is a bully.
Mike says he tends to not argue unless he is fairly certain he is correct.
Mike doesn't like being pushed to the point where he eventually feels mean.
Call us and leave us a message on our hotline… (657) 529-2218
Podcast launch course coming soon — https://ElitePodcastAgency.com
Authors…find our whitepaper on "How to Market and Sell More Books Than You Ever Imagined" and sell a ton of books with the strategy we outline!
The Nightly Rant Episode 249 Links Mentioned
Catch Yogi's Podcast Network on YouTube