Some of the links in this post are affiliate links. This means if you click on the link and purchase the item, we will receive an affiliate commission at no extra cost to you. All opinions remain our own.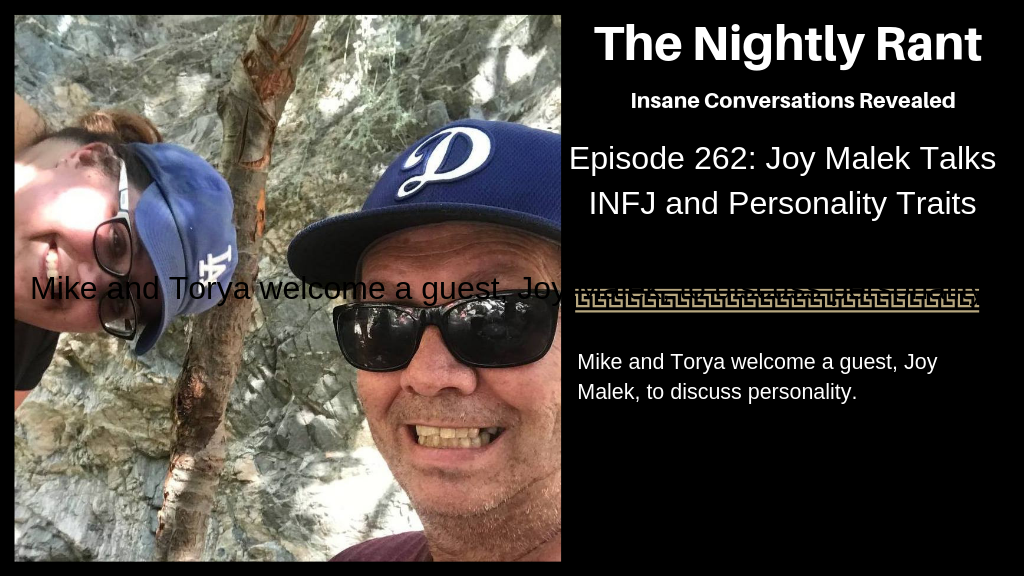 The Nightly Rant Episode 262 Summary
Mike and Torya welcome a guest, Joy Malek, to discuss personality.
Listen to The Nightly Rant Episode 262
The Nightly Rant Episode 262 Show Notes
Our show notes are changing. We are now going to use summaries of the show content for you. Let us know what you think!
Mike complains it seems they never go too long without an extra dog.
Mike discusses their attendance at the Los Angeles County Libertarian Party convention.
Mike introduces Joy Malek
Mike asks about circuitous conversations.
Mike questions the validity of these tests.
Joy explains that it all depends upon how the test is designed.
Joy explains why she focuses on the INFJ personality type
Joy discusses the behind the scenes things that make INFJ personality types unique
Joy explains why she believes why Mike uses introverted intuition.
Joy explains how the personality types interactt
Joy responds to Mike's problem with how people process information
Mike explains how he uses terminology differently depending upon who he is speaking to.
Joy explains INFJ School, her new product.
Call us and leave us a message on our hotline… (657) 529-2218
Podcast launch course coming soon — https://ElitePodcastAgency.com
Authors…find our whitepaper on "How to Market and Sell More Books Than You Ever Imagined" and sell a ton of books with the strategy we outline!
The Nightly Rant Episode 262 Links Mentioned
Where to Find Joy Malek
Instagram: @joymalek
Yogi's Podcast Network Links
Catch Yogi's Podcast Network on YouTube