Some of the links in this post are affiliate links. This means if you click on the link and purchase the item, we will receive an affiliate commission at no extra cost to you. All opinions remain our own.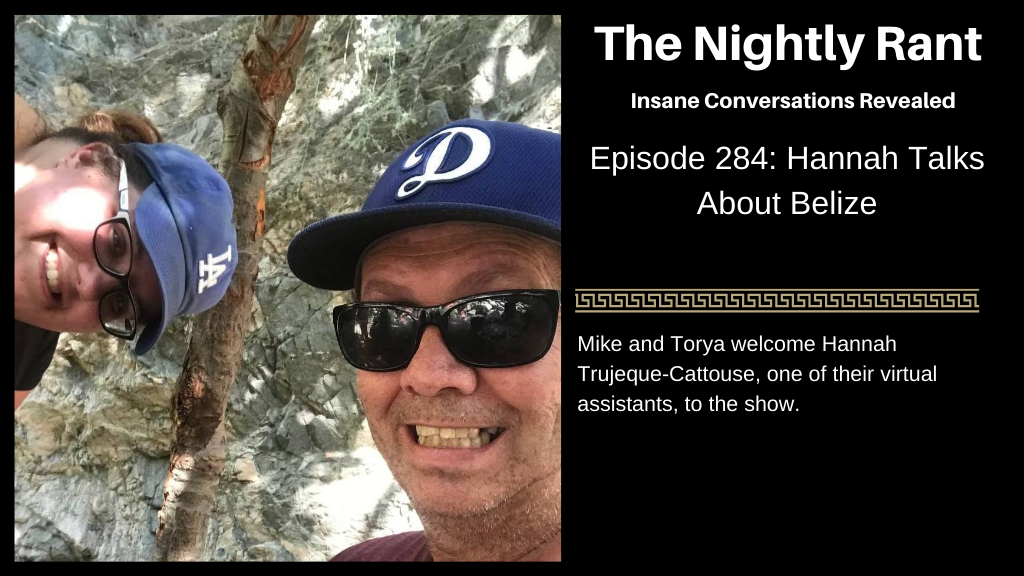 The Nightly Rant Episode 284 Summary
Mike and Torya welcome Hannah Trujeque-Cattouse, one of their virtual assistants, to the show.
Listen to The Nightly Rant Episode 284
The Nightly Rant Episode 284 Show Notes
Our show notes are changing. We are now going to use summaries of the show content for you. Let us know what you think!
Torya opens the show claiming she fired her favorite virtual assistant, Hannah.
Mike says it is awkward since Hannah is there on the show.Mike says Hannah was not fired. Torya says she would pull her hair out if Hannah was fired.
Hannah is from Belize. It is located in Central America. It is the only English-speaking Central American country. It is south of Mexico and east of Guatemala.
Hannah gives the history of Belize in a "non-school" manner.
Mike teases Torya about her black clothing.
Mike recounts when he was in 2nd grade and sassed the teacher about Columbus "discovering" America.
They discover that Columbus Day is celebrated both in the USA and Belize.
Mike asks why it is so difficult to pay people in Belize electronically.
Hannah says the jaguar would say Torya is its people.
Hannah relates a time she felt she was going to be fired.
Mike asks if Hannah's brother wants a job since all her sisters are employed by them as well.
They banter about work things and what about work annoys them.
Call us and leave us a message on our hotline… (657) 529-2218
Podcast launch course coming soon — https://ElitePodcastAgency.com
Authors…find our whitepaper on "How to Market and Sell More Books Than You Ever Imagined" and sell a ton of books with the strategy we outline!
The Nightly Rant Episode 284 Links Mentioned
Hannah Trujeque-Cattouse
Facebook: Let's be Native – Explore Belize
Instagram: @lets.be.native_explore.belize
Yogi's Podcast Network Links
Catch Yogi's Podcast Network on YouTube