Some of the links in this post are affiliate links. This means if you click on the link and purchase the item, we will receive an affiliate commission at no extra cost to you. All opinions remain our own.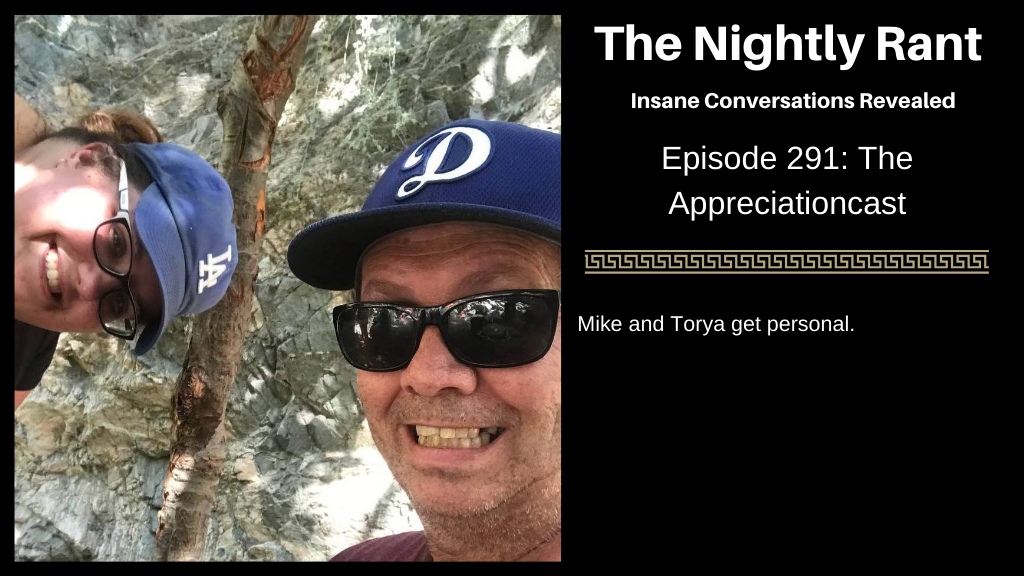 The Nightly Rant Episode 291 Summary
Mike and Torya get personal.
Listen to The Nightly Rant Episode 291
The Nightly Rant Episode 291 Show Notes
Mike opens the show talking about CBD.
They then discuss some of their special episodes. This leads to Mike announcing Appreciationcast — the Top 3 reasons Mike and Torya love each other.
Mike begins by saying Torya motivates him to be a better person. He says he works harder so he won't disappoint Torya.
Torya says she loves Mike because he has an enormous heart for all the things that matter to him. Mike asks what he's done to show he has a big heart. Torya states that people who are important to him have not been fabulous to him, but he still takes great care of them. She points to Yogi and what a big heart Mike has for him.
Mike says that animals touch his heart. He explains how he became a cat lover.
Torya says another reason she loves Mike is she likes that he pushes her out of her "box of comfort". She uses podcasting as just one example. Mike says he believes Torya does it because he loves it.
Mike says he loves Torya because she "gets" him completely. She shows she understands him constantly.
Mike the. Says his number one reason for loving Torya is because she is extremely supportive of his goals and dreams. He points to their business and how it came to be.
Mike discusses how the decisions they've made have helped grow their business.
Torya's number one reason for loving Mike is that he is "ridiculous" and she uses recent things to prove it. She gives more examples.
Our show notes are changing. We are now going to use summaries of the show content for you. Let us know what you think!
Call us and leave us a message on our hotline… (657) 529-2218
Podcast launch course coming soon — https://ElitePodcastAgency.com
Authors…find our whitepaper on "How to Market and Sell More Books Than You Ever Imagined" and sell a ton of books with the strategy we outline!
The Nightly Rant Episode 291 Links Mentioned
Yogi's Podcast Network Links
Catch Yogi's Podcast Network on YouTube