Some of the links in this post are affiliate links. This means if you click on the link and purchase the item, we will receive an affiliate commission at no extra cost to you. All opinions remain our own.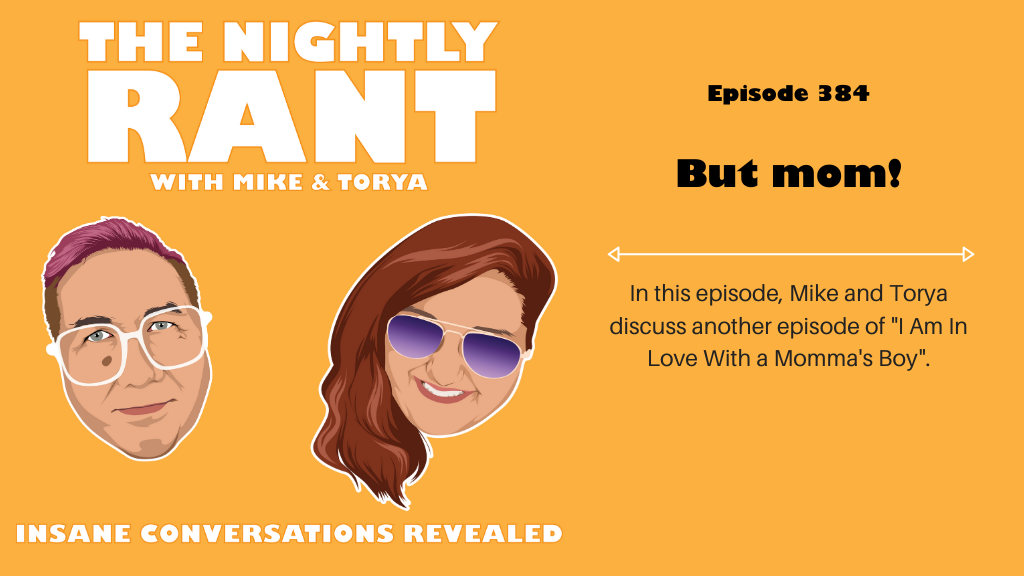 The Nightly Rant Episode 384 Summary
In this episode, Mike and Torya discuss another episode of "I Am In Love With a Momma's Boy".
Listen to The Nightly Rant Episode 384
The Nightly Rant Episode 384 Show Notes
Mike and Torya begin the show by talking about another episode of "I Am In Love With a Momma's Boy"
Then they start talking about the couples left in the show.
Mike finds the cringiest part of the show is the attitude of the mom toward the son, as if they own them, like a piece of property.
Torya's takeaway is that mama's boy mom thinks that they do the right thing but that they are really crazy psychopaths all the time.
Mike shares the key to interaction is understanding each other from where you coming from.
Mike ends the show by sharing that the only person who is in control of your behavior is only YOU.
Call us and leave us a message on our hotline… (657) 529-2218
Podcast launch course coming soon — https://ElitePodcastAgency.com
Authors…find our whitepaper on "How to Market and Sell More Books Than You Ever Imagined" and sell a ton of books with the strategy we outline!
The Nightly Rant Episode 384 Links Mentioned
Yogi's Podcast Network Links
Catch Yogi's Podcast Network on YouTube