Some of the links in this post are affiliate links. This means if you click on the link and purchase the item, we will receive an affiliate commission at no extra cost to you. All opinions remain our own.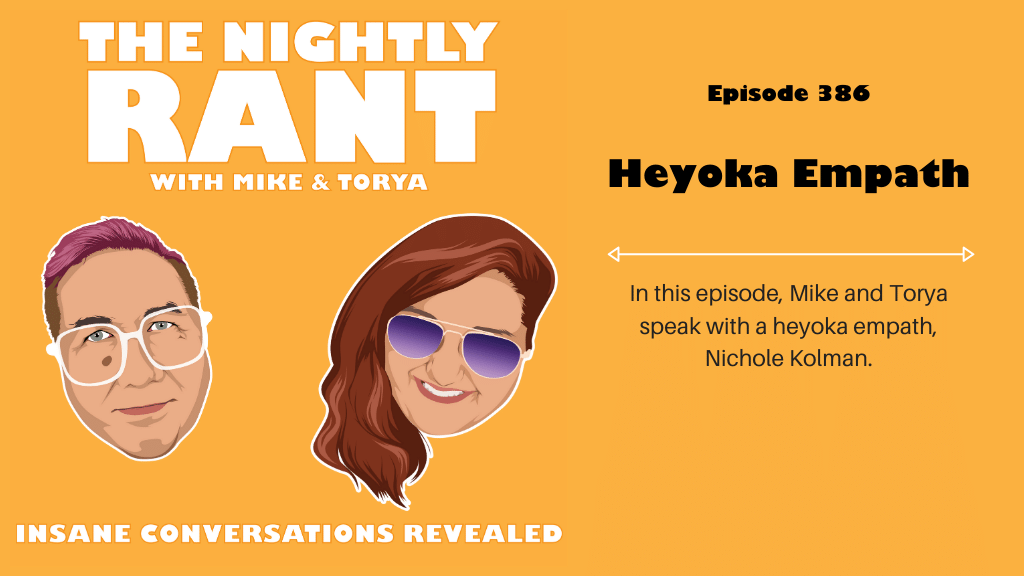 The Nightly Rant Episode 386 Summary
In this episode, Mike and Torya speak with a heyoka empath, Nichole Kolman.
Listen to The Nightly Rant Episode 386
The Nightly Rant Episode 386 Show Notes
Mike starts the show by saying how super weird the weather is today in California. Torya agrees with it.
And they welcome the guest tonight, Nichole Kolman joins the Nightly Rant show. Nichole is a bodybuilder by day, and Heyoka empath by night. 3 title holder in different sports: swimming, gymnastics and bodybuilding. An Israeli, French, Russian, an author and inspired writer.
Then the guest explains what and how the Heyoka empath works.
Mike asks the guest how women don't have standards? The guest then discusses how women don't have standards.
She also points out that If men can handle the women's brain, you can huddle anything intangible in the world.
She shares that when you talk about conversation, it's about being authentic. You can't be authentic if you train daily to be unauthentic. There is power in your words. Labels kill us, it's too general. Women inspire change.
Then the guest end the show by saying – Girls, unstrap your dick and give it back to your man. So you can start complaining again. You can't keep changing between masculine energy and to feminine energy when you have your period. It's not fair. This is confusing to the man. He doesn't know when to man up or back off. Confusion breeds doubt and that doubt is usually about yourself.
You can find more about her through her website: https://nicholekolman.com/
Call us and leave us a message on our hotline… (657) 529-2218
Podcast launch course coming soon — https://ElitePodcastAgency.com
Authors…find our whitepaper on "How to Market and Sell More Books Than You Ever Imagined" and sell a ton of books with the strategy we outline!
The Nightly Rant Episode 386 Links Mentioned
Yogi's Podcast Network Links
Catch Yogi's Podcast Network on YouTube