Some of the links in this post are affiliate links. This means if you click on the link and purchase the item, we will receive an affiliate commission at no extra cost to you. All opinions remain our own.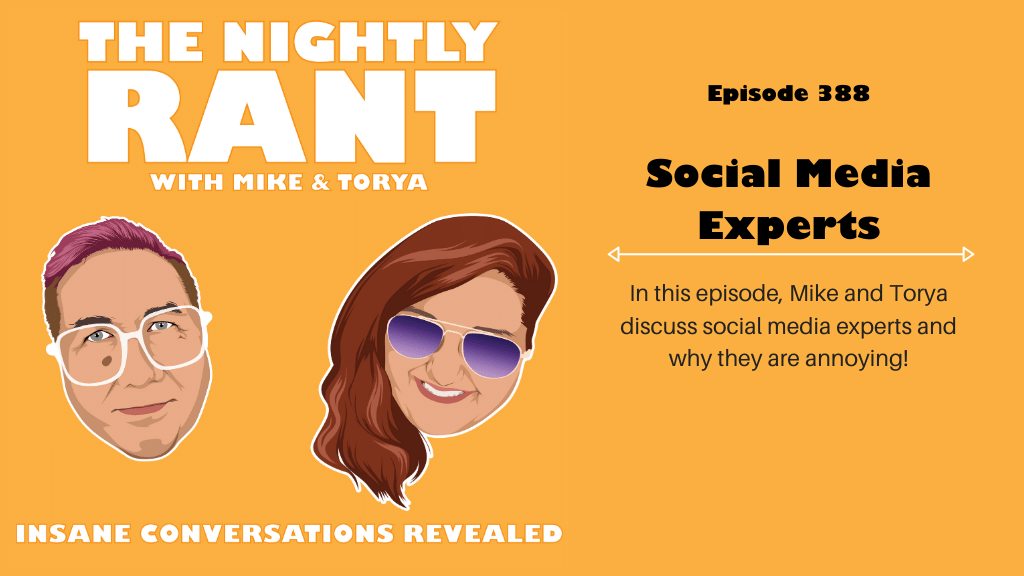 The Nightly Rant Episode 388 Summary
In this episode, Mike and Torya discuss social media experts and why they are annoying!
Listen to The Nightly Rant Episode 388
The Nightly Rant Episode 388 Show Notes
Mike opens the show by saying how they are finally back from the hiatus of recording.
Then they talked about social media jackass from Facebook and Instagram.
One of the many things that drive Mike crazy is when the person takes what you say and adds things that you never say. And how people label you. And this expert person. People who always have something to say, a masters of nothing. Name callers. And the person who has nothing to say on what you say so he attacks your appearance. The last and the most social media jackass, the person who types ALL CAPS.
Mike shares his life philosophy, he doesn't give a f**k about what you think of him. Because in the end, their thoughts don't matter. What truly matters, is the reality of life.
Call us and leave us a message on our hotline… (657) 529-2218
Podcast launch course coming soon — https://ElitePodcastAgency.com
Authors…find our whitepaper on "How to Market and Sell More Books Than You Ever Imagined" and sell a ton of books with the strategy we outline!
The Nightly Rant Episode 388 Links Mentioned
Yogi's Podcast Network Links
Catch Yogi's Podcast Network on YouTube