Some of the links in this post are affiliate links. This means if you click on the link and purchase the item, we will receive an affiliate commission at no extra cost to you. All opinions remain our own.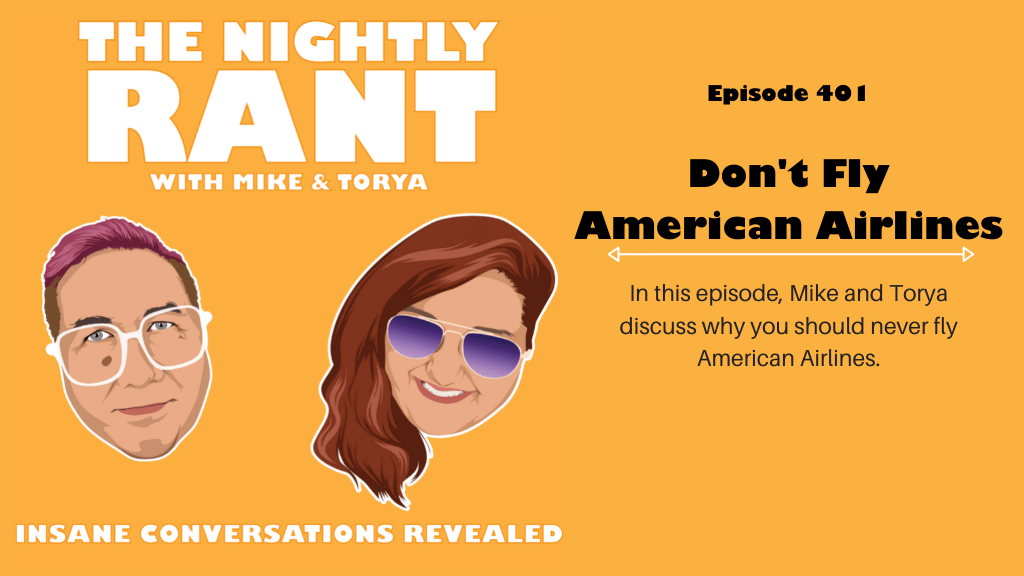 The Nightly Rant Episode 401 Summary
In this episode, Mike and Torya discuss why you should never fly American Airlines
Listen to The Nightly Rant Episode 401
The Nightly Rant Episode 401 Show Notes
Mike opens the show by sharing the amazing trip they had to Murfreesboro, Tennessee.
Then they warned us about not flying with American Airlines, – to quote Victoria saying " American Airlines can eat my butt".
Then they talked about the worst experience they had with the airline.
To list – Changing the flight details without informing them firsthand.
Onboard them on the plane while the plane had maintenance error.
The flight take off from the original 9 am flight to 330 pm and promise to give them a snack bag (Torya was super disappointed with this).
Then they shared their experiences about the car rental.
Then finally, they arrived at Murfreesboro and were amazed at how dark the place is.
The reason they went is for the Rumble in the Boro fitness charity event runs by his friend Marco Blinder.
Then they share their experience in the said charity event, who they met. Mike talked and have a picture with Jay Cutler, and share how he is super friendly and warm to talk to. They also met with Brandon Curry and how he accidentally assaulted Michell but all ends well.
Torya then shares how the experience was not awful and how pretty good the food trucks and cookie dough.
Mike then notices how people are flexing and talking shit about each other.
They end the show by sharing their hotel experiences, and how the rest of the trip was for another episode. The Nightly Rant also reached another milestone by hitting the 400th episode.
Call us and leave us a message on our hotline… (657) 529-2218
Podcast launch course coming soon — https://ElitePodcastAgency.com
Authors…find our whitepaper on "How to Market and Sell More Books Than You Ever Imagined" and sell a ton of books with the strategy we outline!
The Nightly Rant Episode 401 Links Mentioned
Yogi's Podcast Network Links
Catch Yogi's Podcast Network on YouTube