Some of the links in this post are affiliate links. This means if you click on the link and purchase the item, we will receive an affiliate commission at no extra cost to you. All opinions remain our own.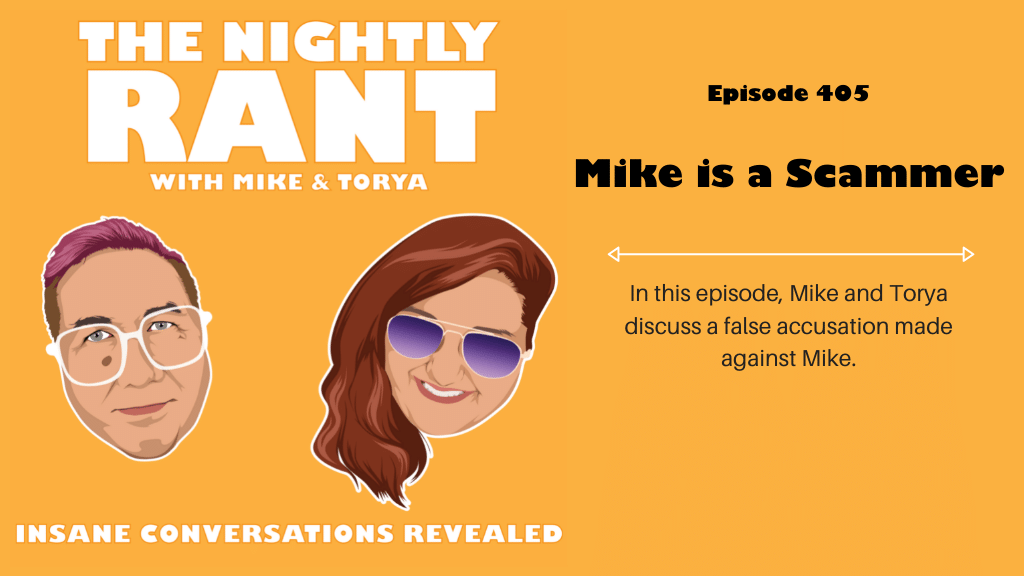 The Nightly Rant Episode 405 Summary
Mike and Torya discuss that someone claimed Mike is a scammer and is only trying to steal the financial info of those who visit his website.
Listen to The Nightly Rant Episode 405
The Nightly Rant Episode 405 Show Notes
Mike opens the show by saying that he was told that he was a scammer!
He shares the story of how one person visited the Your Virtual CTO website and determined that the site was designed to scam people out of their financial information. He challenges everyone to find a single entry form that asks you for their financial information. Torya even points out that you can't even purchase anything from the site!
Mike points out that the person was not there to make a conversation but to make a narrative and preach it out to you. Then they talked about whether or not there is an insurrection last January 6. Mike's opinion is that this is not an insurrection but the other person believes it otherwise.
Then Torya asks an intriguing question about insurrection to Mike.
Then Mike talked about the 3 collection forms on his website. Contact form is used at the button of the service page on the website. Application for the Technology Accelerator RoadmapCalendar page where you can schedule meeting with him
Then they talked about the great and funny show they recently watched, Kim's Convenience. They recommend it so you should go watch it.
Call us and leave us a message on our hotline… (657) 529-2218
Podcast launch course coming soon — https://ElitePodcastAgency.com
Authors…find our whitepaper on "How to Market and Sell More Books Than You Ever Imagined" and sell a ton of books with the strategy we outline!
The Nightly Rant Episode 405 Links Mentioned
Yogi's Podcast Network Links
Catch Yogi's Podcast Network on YouTube