Some of the links in this post are affiliate links. This means if you click on the link and purchase the item, we will receive an affiliate commission at no extra cost to you. All opinions remain our own.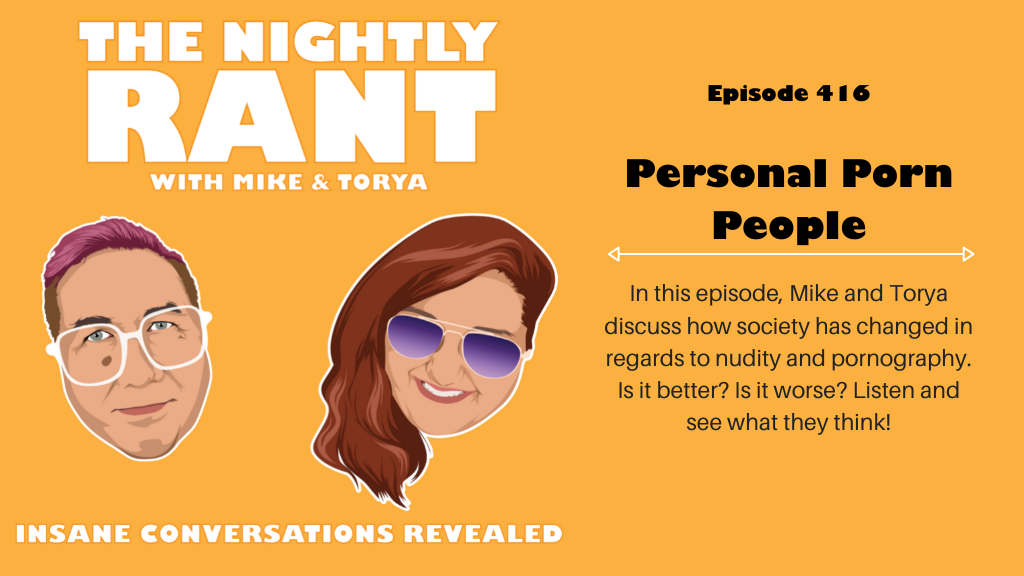 The Nightly Rant Episode 416 Summary
In this episode, Mike and Torya discuss how society has changed in regards to nudity and pornography. Is it better? Is it worse? Listen and see what they think!
Listen to The Nightly Rant Episode 416
The Nightly Rant Episode 416 Show Notes
Mike starts the show by sharing some good news that their last episode about Onlyfans was the #1 most downloaded episode in 2021. He said OnlyFans fucked up. Mike believes that content creators are the laziest motherfuckers on Earth.
Torya agrees that OnlyFans fucked up. She then wonders why porn addicts just don't browse in Pornhub and have not to pay and explore all the free contents Mike actually searched for that question and the only logical answer he had read, that they got obsessed with the particular person and that person was smart enough to not give everything free.
Then they talked about when Mike was building the website for The Small Business Bootcamp and searching for a membership site, he found out one membership site for .25 cents a month for access to his blogs and his alleged subscribers were 1.2 million subscribers. You would have $250,000 a month, which is a decent amount of cash just for a MONTH. They continue to talk and agree that this is an interesting theory of being inexpensive.
Then they talked about Bree that is now 2 years old and how she became a regal dog and full of feelings. So loyal, protective and loving. The dog has evolved into an amazing creature who just loves people
Then Mike shared some bad news, there are no more pigs in the zoo. Mr. Fin passed on 30 days after Ozzy. Mike was sad that Mr. Fin was alone so he kept taking him out, petting him during the day, and talking to him. But unfortunately, he didn't make it and it's sad. MIke wonders if he can love something, but he realizes that he has Torya and the dogs.
Call us and leave us a message on our hotline… (657) 529-2218
Podcast launch course coming soon — https://ElitePodcastAgency.com
Authors…find our whitepaper on "How to Market and Sell More Books Than You Ever Imagined" and sell a ton of books with the strategy we outline!
The Nightly Rant Episode 416 Links Mentioned
Yogi's Podcast Network Links
Catch Yogi's Podcast Network on YouTube