Some of the links in this post are affiliate links. This means if you click on the link and purchase the item, we will receive an affiliate commission at no extra cost to you. All opinions remain our own.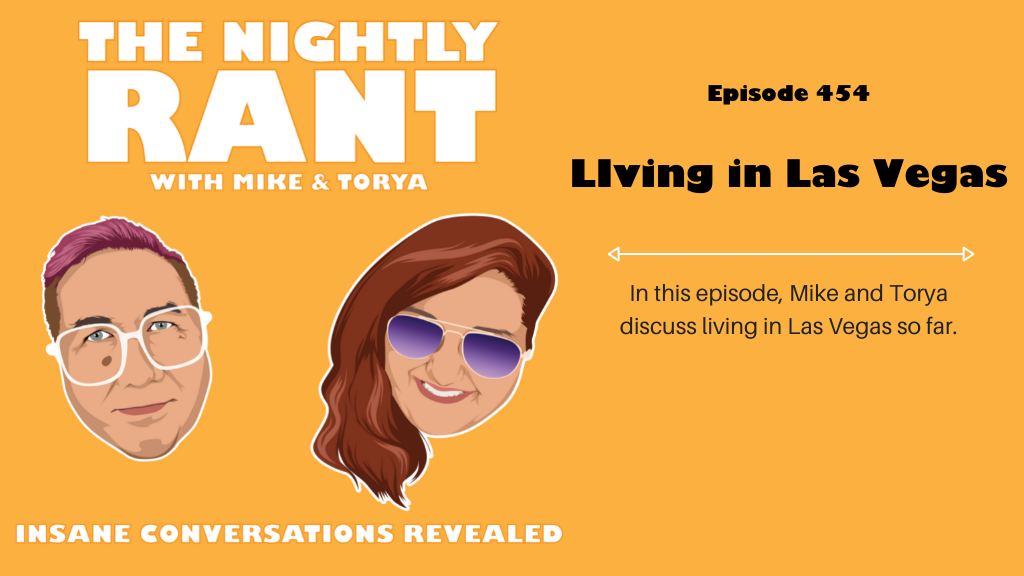 The Nightly Rant Episode 454 Summary
In this episode, Mike and Torya discuss living in Las Vegas so far.
Listen to The Nightly Rant Episode 454
The Nightly Rant Episode 454 Show Notes
Mike opens the show talking about the love he has for living in Las Vegas. Emphasis on LOVES it. It feels free and relaxing. Mike has an ebike.
Yogi, the CEO, likes the new location too. Mike and Torya talk about their animals.
Mike talks about 'bad people' and tells a situation that happened with this lady that looked 'troublesome'. Torya describes her as an unpleasant person.
Mike and Torya discuss their post office and DMX locations as nice and friendly places, which surprises them. This turns into the topic of one of their experiences.
Torya tells Mike that she feels herself slowly unwinding. They both discuss this.
Nothing lives in the Nevada heat, except for succulents, weird trees according to Torya, and 'rocks'.
Mike and Torya continue discussing their life in Las Vegas and the people they are meeting. They discuss the amount of bags they are getting when the supermarkets are bagging their groceries, and how many individual items got their own bag.
Mike talks about taking a step back in life and appreciating things.
Call us and leave us a message on our hotline… (657) 529-2218
Podcast launch course coming soon — https://ElitePodcastAgency.com
Authors…find our whitepaper on "How to Market and Sell More Books Than You Ever Imagined" and sell a ton of books with the strategy we outline!
The Nightly Rant Episode 454 Links Mentioned
Yogi's Podcast Network Links
Catch Yogi's Podcast Network on YouTube