Some of the links in this post are affiliate links. This means if you click on the link and purchase the item, we will receive an affiliate commission at no extra cost to you. All opinions remain our own.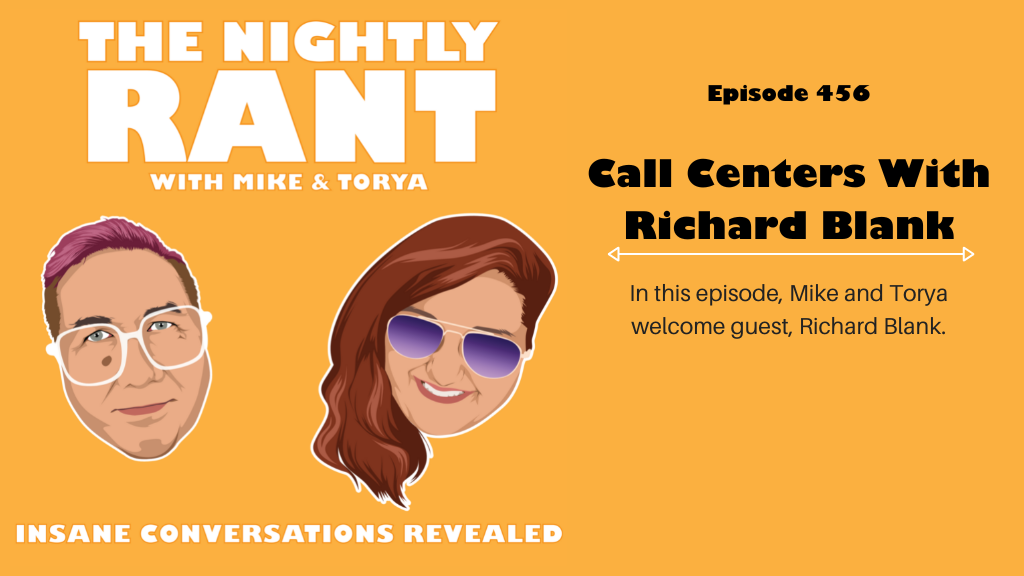 The Nightly Rant Episode 456 Summary
In this episode, Mike and Torya welcome guest Richard Blank.
Listen to The Nightly Rant Episode 456
The Nightly Rant Episode 456 Show Notes
Mike opens the show talking about calls from unknown random numbers trying to scam him.
Today's guest is Richard Blank. Mike introduces him, who is the chief executive officer for CCC, a call center in San Jose, Costa Rica.
Richard and Mike discuss how Richard got into the call center profession.
Richard talks about the difference between illegitimate call centers and legitimate call centers. This leads to Mike discussing the scammers that social media managers and virtual assistant's come across. The conversation of how to detect scammers is approached.
Next topic of conversation is about telemarketers, call centers off-shore and unethical companies.
Torya asks Richard what his 'big red is' and what is his biggest frustration.
Richard tells the audience where they can reach him at 888 271 6750 or ceo@costaricascallcenter.com
Call us and leave us a message on our hotline… (657) 529-2218
Podcast launch course coming soon — https://ElitePodcastAgency.com
Authors…find our whitepaper on "How to Market and Sell More Books Than You Ever Imagined" and sell a ton of books with the strategy we outline!
The Nightly Rant Episode 456 Links Mentioned
Yogi's Podcast Network Links
Catch Yogi's Podcast Network on YouTube