Some of the links in this post are affiliate links. This means if you click on the link and purchase the item, we will receive an affiliate commission at no extra cost to you. All opinions remain our own.

The Nightly Rant Episode 117 Summary
In this episode, Mike and Torya discuss the 2nd week of the 21-day fitness challenge they are taking part in.
Listen to The Nightly Rant Episode 117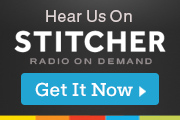 The Nightly Rant Episode 117 Show Notes
Mike and Torya head into the second week of the 21-Day Challenge. Torya discusses what she has learned from the challenge so far. Mike discusses how they are slowly increasing the working time on all the exercises. He relates that to increasing the weights when lifting weights. Mike relates how he hates mountain climbers.
Torya is trying to cool off their bedroom. She would like to sleep in their room tonight.
Mike discusses Teen Mom 2 and how dumb Javi is. Torya discusses what she's heard about the Javi situation. Torya then relates how she found Teen Mom 2. She says the past 2 seasons have been nothing but drama. Mike says the check-in shows are the main point in watching the show now.
Mike points out that while he likes Teen Mom 2, he doesn't look forward to each and every episode like he does for other shows. He says he likes Girlfriend's Guide to Divorce and he likes Blue Bloods. This leads to a discussion of television shows.
Mike points out how Torya barters for things. He throws it out there.
The Nightly Rant Episode 117 Links Mentioned
Catch Yogi's Podcast Network on YouTube
Subscribe: