Some of the links in this post are affiliate links. This means if you click on the link and purchase the item, we will receive an affiliate commission at no extra cost to you. All opinions remain our own.

The Nightly Rant Episode 120 Summary
In this episode, Mike and Torya discuss their overweight albino foster dog.
Listen to The Nightly Rant Episode 120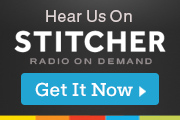 The Nightly Rant Episode 120 Show Notes
Mike opens the show and lets everyone know they now have a new foster dog named Odie. He is an albino Weiner dog and chihuahua mix that is extremely overweight. Odie has pink eyes, lips and skin. He is so out of shape. They now need to drop weight from the dog quickly. Mike compares him to the My 600 lb. Life people, but says it is more like My 400 lb. Life.
Torya discusses that Odie and Yogi broke out of the gated dining room, something that has never happened previously. He also damaged the plastic covering on their front door. He is a master escape artist. Somehow he also managed to get out of the crate.
Torya mentions that Pretty Girl is unhappy about the existence of Odie. Mike points out that she (Pretty Girl) is an immigrant and is not treating the new immigrant very well. She's been grumpy and even attacked Yogi.
Weiner Dude met his new brother and played for 3 hours and then passed out on top of his brother. They both slept together for hours. Mike says he misses Weiner Dude. Torya doesn't miss gates, pee pee pads, and Weiner Dude's sharp teeth.
Apparently, Odie likes to "growl woof" at the cats because he wants them to play. Mike says that he is a Weehuahua because of his mix.
They transition to a discussion of the Weiner Nationals at the Los Alamitos Race Course. Torya describes what this is all about. She describes how cute they all were running their races. Torya says Los Alamitos Race Course employees are wonderful. They treated Mike and Torya to the night and it was a blast.
Mike goes on a rant about how money doesn't make you better than those without money. He discusses how the race track owner is a good person who cares about the community.
Mike discusses how Yogi used to hate walking in the apartment building and how he changed that problem. Torya says she gets weird looks when she walks the two dogs at once.
The Nightly Rant Episode 119 Links Mentioned
Catch Yogi's Podcast Network on YouTube
Subscribe: