Some of the links in this post are affiliate links. This means if you click on the link and purchase the item, we will receive an affiliate commission at no extra cost to you. All opinions remain our own.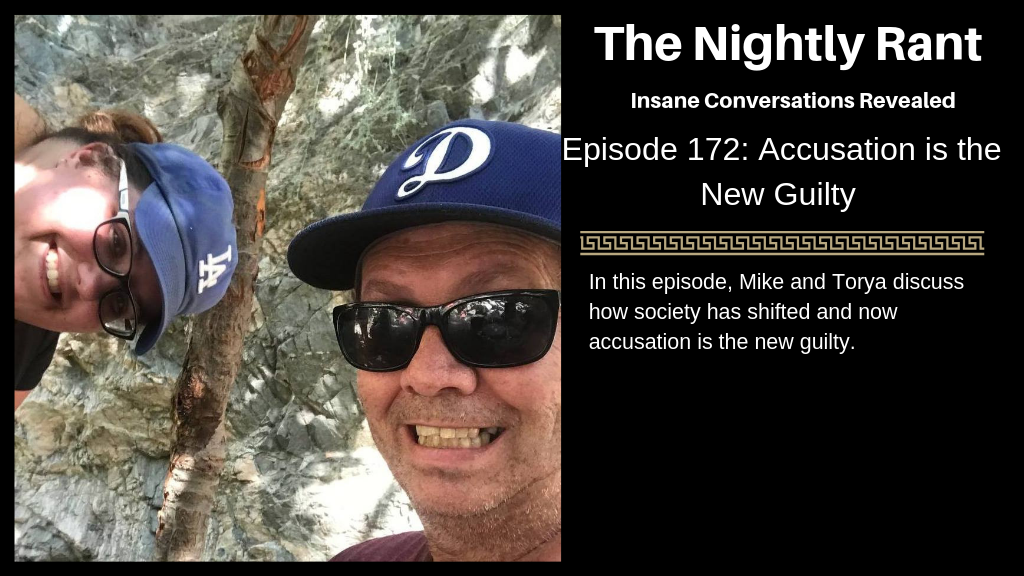 The Nightly Rant Episode 172 Summary
In this episode, Mike and Torya discuss how society has shifted and now accusation is the new guilty.
Listen to The Nightly Rant Episode 172
The Nightly Rant Episode 172 Show Notes
Mike and Torya were sick, but they now have a house guest. Ashley has come to stay for a little while. Mike says that it was a crazy day for them because of the new schedule of things.
Mike says that if you are accused of something, you are guilty of that thing. (1:40)
Society deems the accused guilty (2:20)
97.8% of people are assholes (2:40)
Torya says that people should withhold judgment until they get the facts (3:40)
Mike rants about credibility (3:50)
Mike rants about the statistics (6:00)
The difference between rape and regret (7:20)
Liars have zero credibility (11:05)
Testimony of Dr. Ford (12:50)
Question your assumptions (15:05)
Mike would withdraw the nomination (17:45)
Liars will set the women's movement way back (19:50)
90 Day Finance (20:30)
You can only push it so hard (24:40)
People jump to their own conclusions (25:20)
The world laughed at Trump (28:10)
The Nightly Rant Episode 172 Links Mentioned
Catch Yogi's Podcast Network on YouTube