Some of the links in this post are affiliate links. This means if you click on the link and purchase the item, we will receive an affiliate commission at no extra cost to you. All opinions remain our own.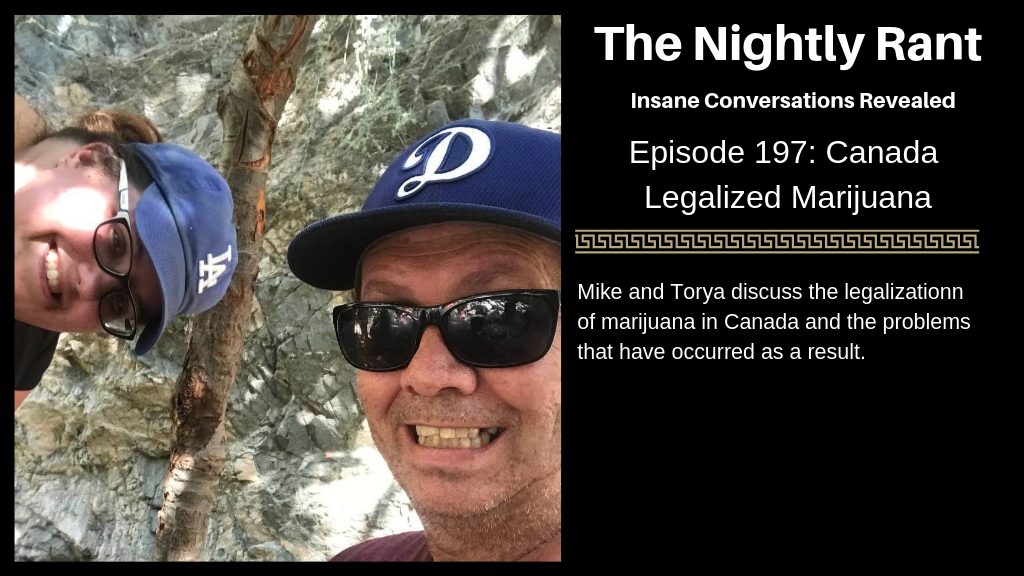 The Nightly Rant Episode 197 Summary
In this episode, Mike and Torya discuss Canada legalizing marijuana and the problems that ensued.
Listen to The Nightly Rant Episode 197
The Nightly Rant Episode 197 Show Notes
Mike and Torya open the show talking about Odie and how he was adopted two weeks prior to the recording of this episode. They both say he has adjusted well and is extremely happy with his new mommy.
Mike brings up skinny, athletic Mitchell and his request to attend the gym with Mike starting in 2019. He has been going to some running lessons. He is already seeing major improvements in his running.
Marijuana is legal in Canada, but there is a shortage of weed. They were surprised by how much demand there was going to be.
Torya says that people trying to enter the United States are being banned when they admit they've smoked marijuana. This is because marijuana is still illegal in the United States.
This leads to a discussion of duty on products brought into other countries.
Mike rants about the need for compromise in society.
The Nightly Rant Episode 197 Links Mentioned
Catch Yogi's Podcast Network on YouTube