Some of the links in this post are affiliate links. This means if you click on the link and purchase the item, we will receive an affiliate commission at no extra cost to you. All opinions remain our own.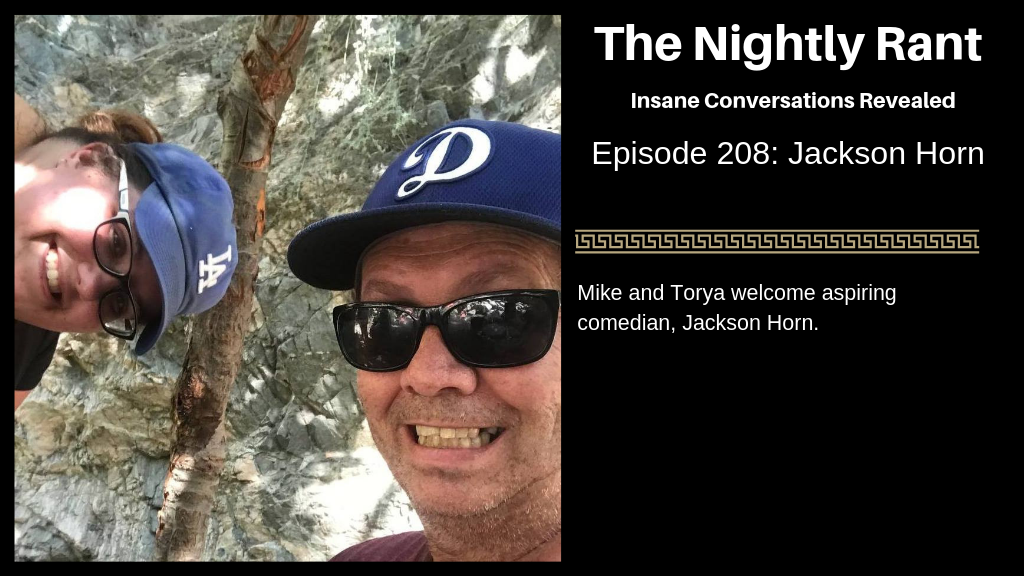 The Nightly Rant Episode 208 Summary
Mike and Torya welcome aspiring comedian, Jackson Horn.
Listen to The Nightly Rant Episode 208
The Nightly Rant Episode 208 Show Notes
Our show notes are changing. We are now going to use summaries of the show content for you. Let us know what you think!
Odie the troll was sighted on Instagram
Mike introduces Jackson Horn, an aspiring comedian
Jackson talks about how he gives a fuck about some things.
Jackson says people can't handle being roasted
Jackson defines what roasting is.
Torya says most people are assholes
Jackson rants about the roast he conducted on Instagram
Mike chastises Jackson for making hand motions on a podcast to explain himself.
Jackson vents about grammar and Mike says that's why he uses Grammarly–so he doesn't have to remember grammar rules.
Mike explains that people judge you and no matter what you show them, they hold onto that judgment.
Torya complains that she doesn't get to have these conversations on social media because people just block her
Jackson speaks about religion
Mike tells Jackson that of his two points about religion, only one of them is correct, while the other is incorrect.
Torya says there is no gray area with people online
Mike rants about personal liberty (as usual)
Mike advises people about how to handle themselves on social media
Mike rants about why he finds Twitter to be entertaining
Mike says that extremes are not comfortable for him
Mike talks about what happens when you truly care about someone.
The Nightly Rant Episode 208 Links Mentioned
Jackson Horn – @thefunnyhorn on Instagram
Catch Yogi's Podcast Network on YouTube