Some of the links in this post are affiliate links. This means if you click on the link and purchase the item, we will receive an affiliate commission at no extra cost to you. All opinions remain our own.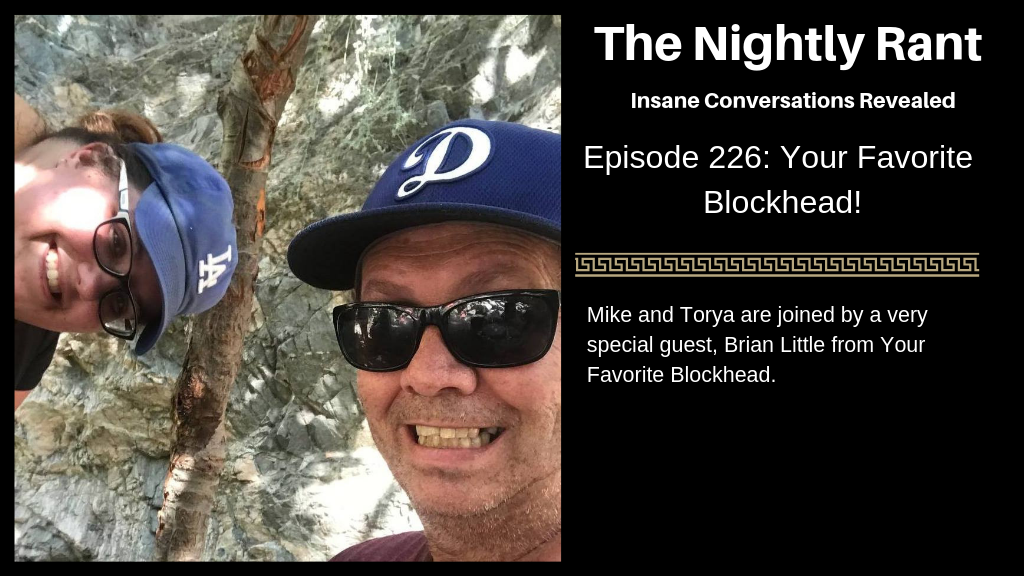 The Nightly Rant Episode 226 Summary
Mike and Torya are joined by a very special guest, Brian Little from Your Favorite Blockhead.
Listen to The Nightly Rant Episode 226
The Nightly Rant Episode 226 Show Notes
Our show notes are changing. We are now going to use summaries of the show content for you. Let us know what you think!
Mike opens the show talking about time for celebration.
Mike introduces Brian Little from Your Favorite Blockhead and they have a big announcement.
Brian's show is now a part of Yogi's Podcast Network!
Brian tells us about his love for A&W Root Beer.
Torya tells Brian she loves Barqs Root Beer.
Brian reminds Torya of the guy on Instagram that got her fired up.
Mike officially announces that Your Favorite Blockhead is the newest member of Yogi's Podcast Network.
Mike encourages listeners to subscribe to and listen to Brian's show.
Mike says people hate him.
Brian calls Mike the Libertarian version of Madea.
Mike lets everyone know there will soon be a Torya-focused episode.
Brian tells the story of how Your Favorite Blockhead came into existence.
Brian educates us on the word blockhead.
Brian rants about the college admissions scam.
Mike discusses how there will be lawsuits over the scam.
Mike rants about how dumb people are and how they think they know an actor or actress based upon the roles they played.
Mike says they have learned via analysis that people tend to not be very smart.
Brian goes on a dodo bird rant
Mike talks about how people never seem to think things through to the end.
Mike rants about Social Media Warriors.
Brian talks about a Peanuts page on Facebook and a disagreement he had.
The "Susan Rule" is discussed.
Podcast launch course coming soon — https://ElitePodcastAgency.com
Authors…find our whitepaper on "How to Market and Sell More Books Than You Ever Imagined" and sell a ton of books with the strategy we outline!
The Nightly Rant Episode 226 Links Mentioned
Catch Yogi's Podcast Network on YouTube