Some of the links in this post are affiliate links. This means if you click on the link and purchase the item, we will receive an affiliate commission at no extra cost to you. All opinions remain our own.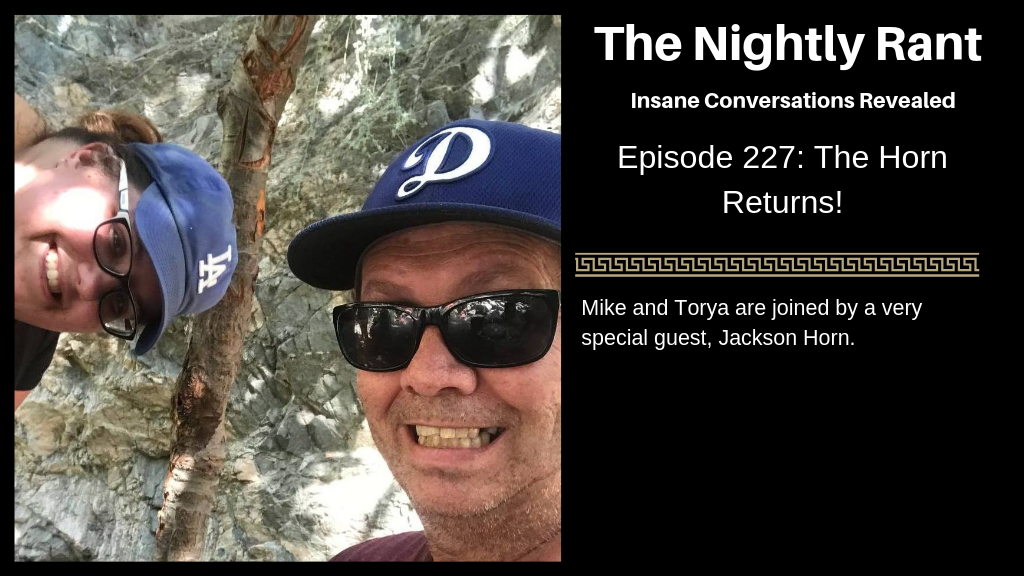 The Nightly Rant Episode 227 Summary
Mike and Torya are joined by a very special guest, Jackson Horn.
Listen to The Nightly Rant Episode 227
The Nightly Rant Episode 227 Show Notes
Our show notes are changing. We are now going to use summaries of the show content for you. Let us know what you think!
Mike and Torya open the show discussing the trouble their guest is having with technology.
They describe Jackson's journey to find a good spot for the interview.
Jackson talks about how his life is changing.
Jackson tells Mike and Torya that his open mic appearances didn't go so well.
Mike says Jackson is still awesome just for putting himself out there.
Jackson explains that many people who are unhappy feel that way because they never do anything.
Mike explains that as Jackson keeps doing this he will get better.
Mike chastises Jackson about changing his Instagram name.
Jackson discusses his new girlfriend and their dynamic.
Jackson describes his Lime scooter accident.
Mike points out that in the last 14 minutes Jackson has not changed his Instagram name.
They discuss the college cheating scandal.
Mike rants about how people see celebrities as their most prolific character and they expect them to act like that character.
Jackson starts comparing how women love Ryan Gossling. Torya says no way.
Mike brings up Jack Black as the comparison.
Mike points out how obvious perverted men can be.
Torya and Jackson spar over how women think.
Mike rants about it being wrong to use the words "always" and "never"
Mike predicts lots of lawsuits as a result of the college cheating scandal.
Mike rants about how the #metoo movement confuses men/boys. He suggests simply teaching your sons that no means no. Keep it simple.
Jackson gives his opinion of the #metoo movement
Mike discusses the importance of understanding the terms used in a discussion. He points out that things must be kept simple.
Podcast launch course coming soon — https://ElitePodcastAgency.com
Authors…find our whitepaper on "How to Market and Sell More Books Than You Ever Imagined" and sell a ton of books with the strategy we outline!
The Nightly Rant Episode 227 Links Mentioned
Catch Yogi's Podcast Network on YouTube