Some of the links in this post are affiliate links. This means if you click on the link and purchase the item, we will receive an affiliate commission at no extra cost to you. All opinions remain our own.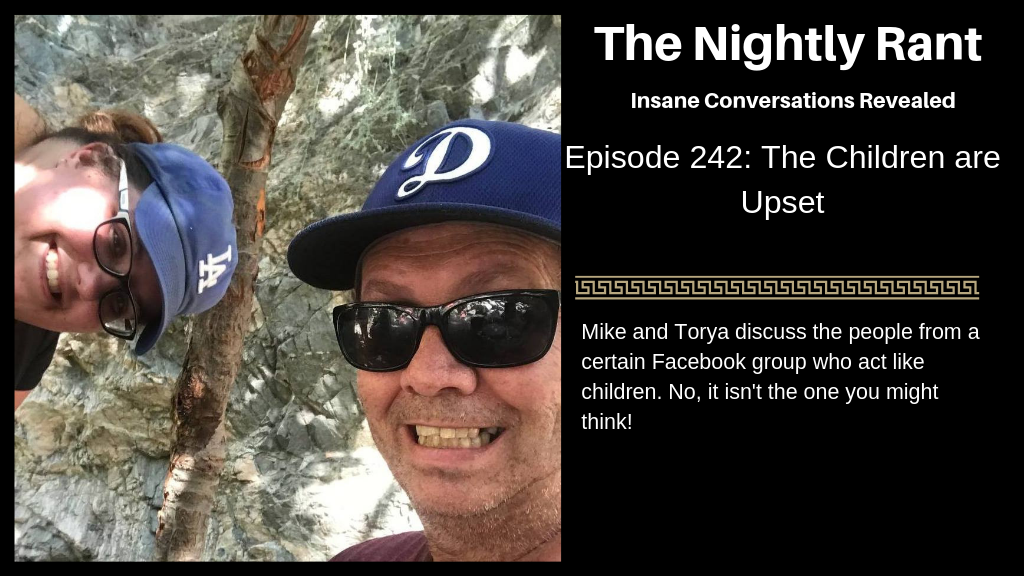 The Nightly Rant Episode 242 Summary
Mike and Torya discuss the people from a certain Facebook group who act like children. No, it isn't the one you might think!
Listen to The Nightly Rant Episode 242
The Nightly Rant Episode 242 Show Notes
Our show notes are changing. We are now going to use summaries of the show content for you. Let us know what you think!
Mike opens the show stating that he posted an episode of Liberty Revealed on the Huntington Beach Facebook page.
Mike rants about the people bashing the Liberty Revealed episode.
Mike explains that these children attack a school board member on a regular basis.
Mike provides a neutral recommendation for the said school board member.
Mike compares the situation to what he went through.
Mike rants about people who don't pay attention.
Mike says that he is sick of Facebook because the discussions continually go off the rails.
Buena Park has 85000 citizens while the combined population of Cypress, La Palma, and Los Alamitos is 75000.
Mike then rants about idiots from Facebook who intentionally insult others.
Mike rants about some of the "solutions" for the homeless problem.
Mike says Dr. Drew's homeless solution is dead wrong.
Mike debunks the idea that the homeless are there because they choose to be.
Mike points out that taxpayers are already paying for the homeless.
Mike discusses his concept of "rock bottom"
Call us and leave us a message on our hotline… (657) 529-2218

Podcast launch course coming soon — https://ElitePodcastAgency.com
Authors…find our whitepaper on "How to Market and Sell More Books Than You Ever Imagined" and sell a ton of books with the strategy we outline!
The Nightly Rant Episode 242 Links Mentioned
Catch Yogi's Podcast Network on YouTube