Some of the links in this post are affiliate links. This means if you click on the link and purchase the item, we will receive an affiliate commission at no extra cost to you. All opinions remain our own.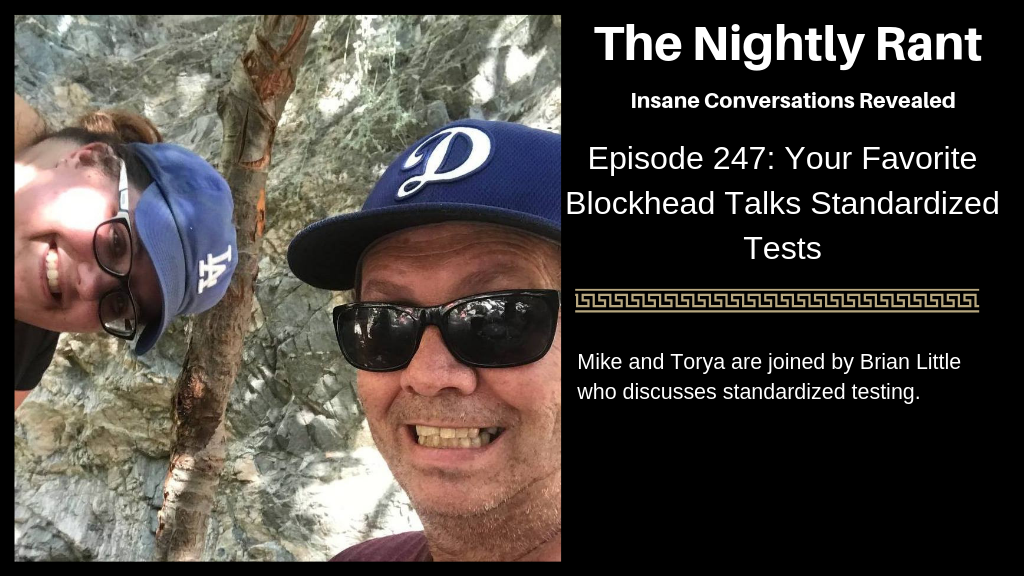 The Nightly Rant Episode 247 Summary
Mike and Torya are joined by Brian Little who discusses standardized testing.
Listen to The Nightly Rant Episode 247
The Nightly Rant Episode 247 Show Notes
Our show notes are changing. We are now going to use summaries of the show content for you. Let us know what you think!
Mike describes their return guest.
Brian Little chimes in to give his own introduction.
Brian doesn't like WWE.
Mike discusses how he used to love professional wrestling.
Brian relates a story about when he coached wrestling.
Mike opines that it is very strange that in sports, the mistakes the officials make are usually on plays that are not reviewable.
Brian wants to address standardized testing.
Mike asks Brian to address standardized testing, but to also address how teachers should be evaluated.
Brian says that students are too diverse for standardized testing.
He points out the issues that happen with standardized testing.
Brian mentions Frank Deangelis and his feelings about standardized testing.
Mike feels the people pushing the standardized tests are disconnected from what is going on.
Brian says that teachers should be assessed by how well his lesson plan is. He wants the administrators to do a hands-on evaluation.
Mike rants about society and how they misunderstand things that are so simple.
Call us and leave us a message on our hotline… (657) 529-2218
Podcast launch course coming soon — https://ElitePodcastAgency.com
Authors…find our whitepaper on "How to Market and Sell More Books Than You Ever Imagined" and sell a ton of books with the strategy we outline!
The Nightly Rant Episode 247 Links Mentioned
Catch Yogi's Podcast Network on YouTube