Some of the links in this post are affiliate links. This means if you click on the link and purchase the item, we will receive an affiliate commission at no extra cost to you. All opinions remain our own.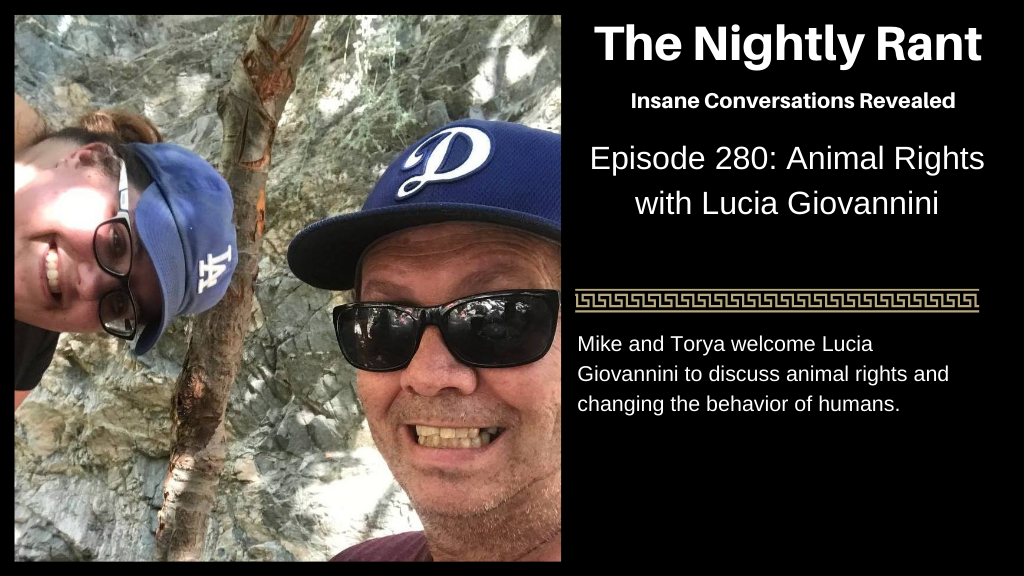 The Nightly Rant Episode 280 Summary
Mike and Torya welcome Lucia Giovannini to discuss animal rights and changing the behavior of humans.
Listen to The Nightly Rant Episode 280
The Nightly Rant Episode 280 Show Notes
Our show notes are changing. We are now going to use summaries of the show content for you. Let us know what you think!
The show opens with Mike discussing the fact he is picking up a puppy for a foster. Torya mentions the rescue picked up 9 dogs. Mike says this will be the first female foster.
Mike introduces Lucia Giovannini, a former international Italian supermodel, author of 13 books and she transforms audiences through her speaking. She is a passionate animal rights person.
Mike discusses their fosters and how they treat them. This leads to Lucia discussing how she advocates for animals. She has an organization in Italy called United for the Little Ones. She explains exactly what they do and it is amazing!
They discuss some issues they've had with foster dogs and explain how wonderful the rescue is with those dogs. They discuss how rewarding all of this is.
Lucia gives her take on animals and how they interact with humans.
Lucia describes how she helps people make change in their lives.
Call us and leave us a message on our hotline… (657) 529-2218
Podcast launch course coming soon — https://ElitePodcastAgency.com
Authors…find our whitepaper on "How to Market and Sell More Books Than You Ever Imagined" and sell a ton of books with the strategy we outline!
The Nightly Rant Episode 280 Links Mentioned
Where to Find Lucia Giovannini
Yogi's Podcast Network Links
Catch Yogi's Podcast Network on YouTube