Some of the links in this post are affiliate links. This means if you click on the link and purchase the item, we will receive an affiliate commission at no extra cost to you. All opinions remain our own.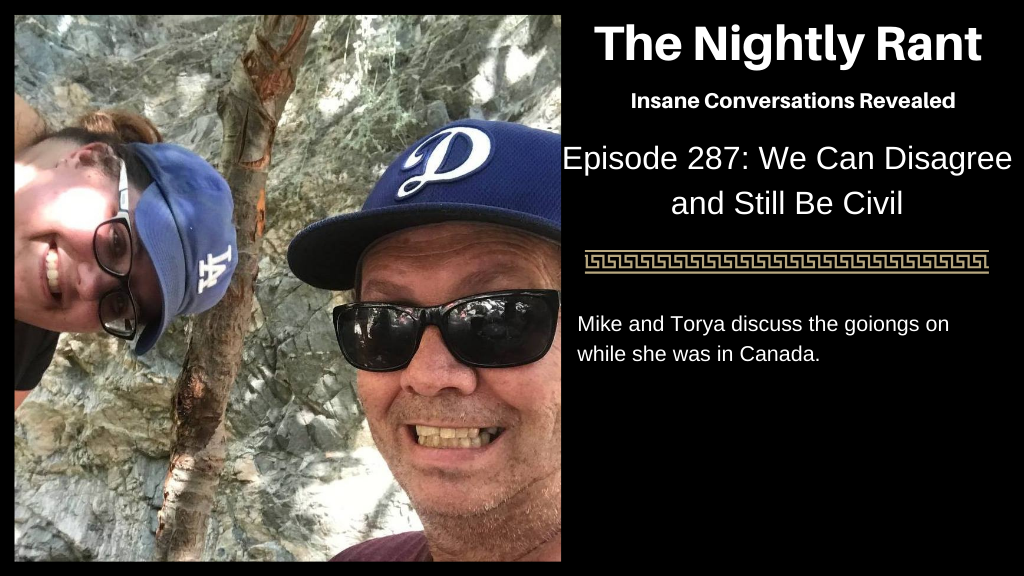 The Nightly Rant Episode 287 Summary
Mike and Torya discuss the happenings while Torya was in Canada.
Listen to The Nightly Rant Episode 287
The Nightly Rant Episode 287 Show Notes
Our show notes are changing. We are now going to use summaries of the show content for you. Let us know what you think!
They begin the show by discussing Torya's trip to Canada.
Mike talks about the community meeting that resulted in him and two others being assaulted. Mike describes the incident in detail. Torya says it is a good thing she wasn't there.
People can say what they want about Mike and Torya, but they don't care because they know the real truth. Just because you don't agree with someone doesn't make them your mortal enemy.
Mike points out the hypocrisy of the attitude displayed by those who assaulted him. Mike points out that they were honest when they said they wanted to ask questions and he even shows how they knew this as well.
They transition to a discussion about the cat, Pretty Girl, and how angry she's been at them for getting stuck on the other side of the house.
Call us and leave us a message on our hotline… (657) 529-2218
Podcast launch course coming soon — https://ElitePodcastAgency.com
Authors…find our whitepaper on "How to Market and Sell More Books Than You Ever Imagined" and sell a ton of books with the strategy we outline!
The Nightly Rant Episode 287 Links Mentioned
Yogi's Podcast Network Links
Catch Yogi's Podcast Network on YouTube