Some of the links in this post are affiliate links. This means if you click on the link and purchase the item, we will receive an affiliate commission at no extra cost to you. All opinions remain our own.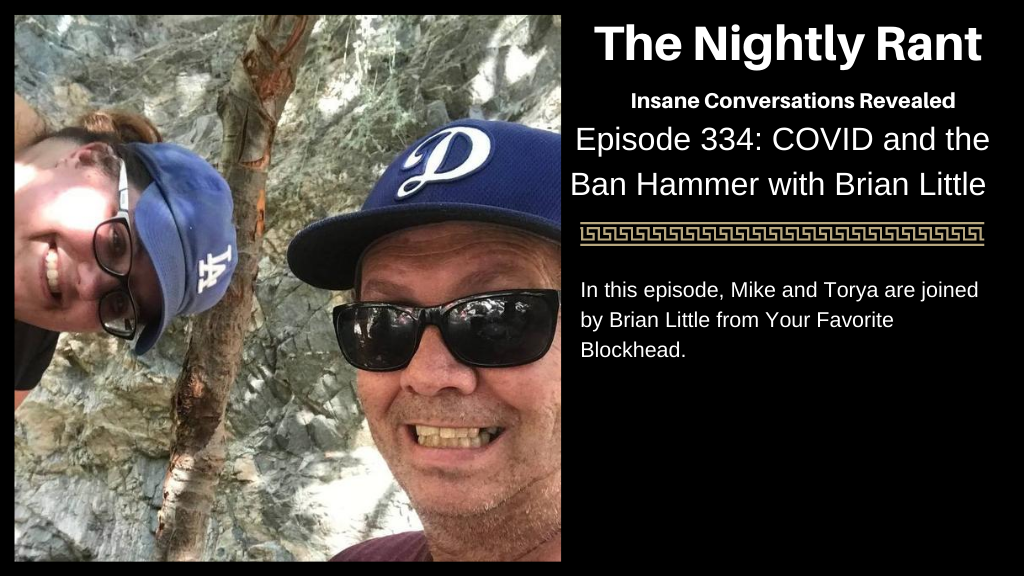 The Nightly Rant Episode 334 Summary
Mike and Torya are joined by Brian Little of Your Favorite Blockhead.
Listen to The Nightly Rant Episode 334
The Nightly Rant Episode 334 Show Notes
Mike announces he is a statistic. He was tested for COVID-19.
Mike describes the testing process.
Torya introduces Brian from Your Favorite Blockhead.
Brian expresses gratitude that he was not hit with the ban hammer.
Mike describes what happened when the ban hammer fell.
Mike points out that they were teased about saying the death rate was lower than reported and the death rate is now officially announced as lower than reported.
Mike rants about the COVID-19 stats.
Mike discusses why he says never vote Republican or Democrat. He rants about the insanity he sees in this prospect.
Brian chimes in. He says how we vote is our business. He says he tends to vote for the underdog.
Brian discusses his desires for his students.
Mike rants about how unqualified Joe Biden really is.
Mike dispels the myth about third party voters.
They go on to discuss why you should believe people who tell you there are problems they've experienced.
Our show notes are changing. We are now going to use summaries of the show content for you. Let us know what you think!
Call us and leave us a message on our hotline… (657) 529-2218
Podcast launch course coming soon — https://ElitePodcastAgency.com
Authors…find our whitepaper on "How to Market and Sell More Books Than You Ever Imagined" and sell a ton of books with the strategy we outline!
The Nightly Rant Episode 334 Links Mentioned
Brian Little
Instagram: @yourfavoriteblockhead
Spotify: You're Favorite Blockhead's Show
Blog: Your Favorite Blockhead
Yogi's Podcast Network Links
Catch Yogi's Podcast Network on YouTube