Some of the links in this post are affiliate links. This means if you click on the link and purchase the item, we will receive an affiliate commission at no extra cost to you. All opinions remain our own.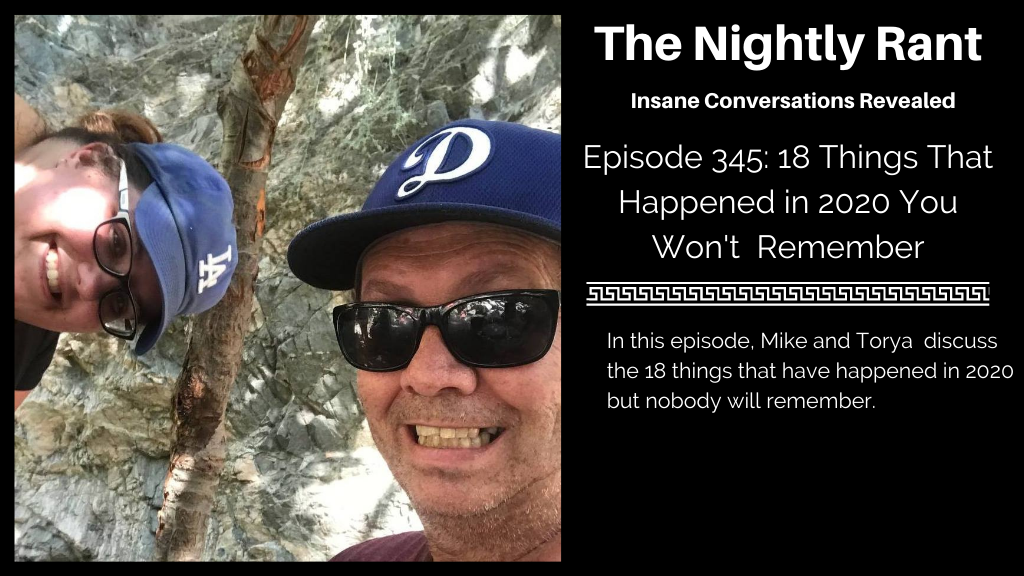 The Nightly Rant Episode 345 Summary
Mike and Torya discuss the 18 things that have happened in 2020 that nobody remembers.
Listen to The Nightly Rant Episode 345
The Nightly Rant Episode 345 Show Notes
Parasite won Best Picture
Harvey Weinstein sentenced to prison
Michael Bloomberg ran for POTUS
Megxit
Actual Brexit
Prophetic Netflix reality shows
Kobe and Gianna Bryant die in a helicopter crash
Australia faces brush fires
Twitter and World War III memes
Impeached POTUS was acquitted
Risking it all in theaters back in January
Super Bowl half time show with Shakira
Debated the status of New York governor's nipples
Nobody remembered 4/20
Internet stanned Kim Yo Jong
Quibi
Grimes gave birth
Pentagon released UFO videos in April and nobody cared
Our show notes are changing. We are now going to use summaries of the show content for you. Let us know what you think!
Call us and leave us a message on our hotline… (657) 529-2218
Podcast launch course coming soon — https://ElitePodcastAgency.com
Authors…find our whitepaper on "How to Market and Sell More Books Than You Ever Imagined" and sell a ton of books with the strategy we outline!
The Nightly Rant Episode 345 Links Mentioned
Yogi's Podcast Network Links
Catch Yogi's Podcast Network on YouTube