Some of the links in this post are affiliate links. This means if you click on the link and purchase the item, we will receive an affiliate commission at no extra cost to you. All opinions remain our own.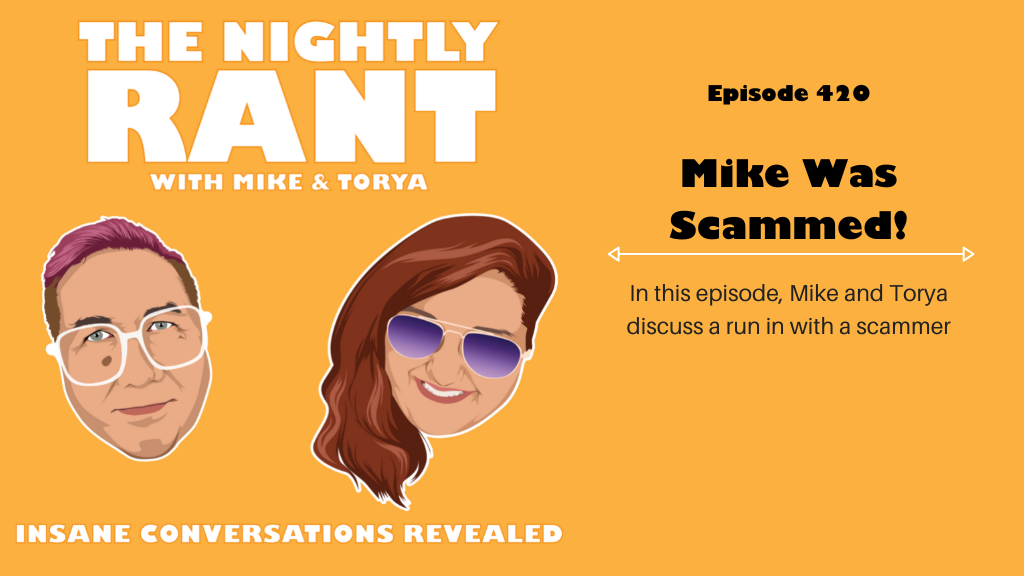 The Nightly Rant Episode 420 Summary
In this episode, Mike and Torya discuss being scammed.
Listen to The Nightly Rant Episode 420
The Nightly Rant Episode 420 Show Notes
Mike opens the show by saying how he is a f*cking idiot and so angry right now. Torya said he is pissed and warns the people that a rant is coming.
He then shares the story of how their Edison bill went high due to air conditioning so that he made payment arrangements with them. When he is taking a nap, he receives a call that power termination is on the way for the next 30 mins. He is told the last payment was not received. So they agree to pay the minimum payment due. He then asked for the credit card number and Mike gave it willingly. It was a scammer. Mike points out that the moral story of this is never ever give anything over the phone because every system these days has ways to securely transfer information.
Torya then thinks what other people should do is the trust to verify. South California Edison is a trustworthy company.  If they called you, hang up and call them back. Mike believes that this person is really good at scamming people. She was really smooth at that.
Torya then shares her experience of almost getting scammed. She was looking for a roommate back then, she found one who was an exchange student from France. The roommate sent the check for the security deposit. The check was a little sketchy and she took it to the bank to confirm and the check was fake. Torya then brings it to the police station. Mike then shares his fair share of experience too.
Then they talked about that doing short-term rentals is like the place where scammers are now. They want to scam the people who are doing the short-term rental. Then they continue to talk about their experiences of scammer in their rentals.
Mike points out that that don't be a moron and do like he did. Make sure they have to verify your account. Ask for their direct phone number and ask for the employee's name and number. Mike feels ridiculous to take advantage of the smooth-talking scammer lady. Without being racist, this person is 100%, a non-ethnic American citizen. Born and bred in the United States. They were here as natives, not visitors.
Mike ends the show saying that he hates racism and how he is pissed once again.
Call us and leave us a message on our hotline… (657) 529-2218
Podcast launch course coming soon — https://ElitePodcastAgency.com
Authors…find our whitepaper on "How to Market and Sell More Books Than You Ever Imagined" and sell a ton of books with the strategy we outline!
The Nightly Rant Episode 420 Links Mentioned
Yogi's Podcast Network Links
Catch Yogi's Podcast Network on YouTube