Some of the links in this post are affiliate links. This means if you click on the link and purchase the item, we will receive an affiliate commission at no extra cost to you. All opinions remain our own.

The Nightly Rant Episode 78 Summary
In this episode, Mike and Torya discuss extremes and why they are never a good thing. The discussion covers many different types of extremes.
Listen to The Nightly Rant Episode 78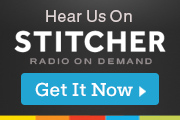 The Nightly Rant Episode 78 Show Notes
This episode opens with a discussion of extremes. In fact, Mike and Torya think possibly the extinction of the human race is near.
The discussion goes to a lady who called Mike an elitist classist snob. This is a woman who lives in a $10 million home with a staff.
They mention that the Austin bomber has been labelled a domestic terrorist. The discussion mentions that a terrorist can only be called that if they have some kind of political motive. That's how "terrorist" is defined.
Mike explains he feels there are racial extremists. Some people are just pure racists while others go to an extreme to "prove" that they are not racist. Is it racist to say "I'm not racist because I have a black friend"? Of course!
There are religious extremists as well. There are people all the way on one side who think everyone should believe like them and then there are those who are on the other end who believe all religions are completely false.
Mike wonders if the kids are still enjoying the tradition of going to church on Easter.
There are also sexual extremists. On one side, there are those who are going crazy sexually and others who are completely celibate.
There are food extremists.
Mike says that extremists could fix their issue by suggesting a change rather than insisting their way is the ONLY way.
Mike concludes that most extremists (regardless of their side) are the troublemakers.
The Nightly Rant Episode 78 Links Mentioned
Catch Yogi's Podcast Network on YouTube
Yogi's Podcast Network YouTube Channel
Subscribe: