Some of the links in this post are affiliate links. This means if you click on the link and purchase the item, we will receive an affiliate commission at no extra cost to you. All opinions remain our own.

The Nightly Rant Episode 87 Summary
In this episode, Mike and Torya discuss the inventions that have made life easier like home dry cleaning, scotchguard, Febreze and other items that are similar. They talk about how amazing they are.
Listen to The Nightly Rant Episode 87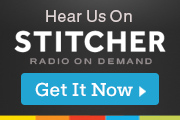 >
The Nightly Rant Episode 87 Show Notes
Stating the obvious, dirty clothes are no fun!
Mike discusses home dry cleaning solutions and how well they actually work. Just a little bit of product in a bag and 20 minutes in the dryer and it is clean. Shout out to Dryel! Apparently this works really well!
Mike talks about Scotch Guard and how it has protected their new couch. He says that it has kept all stains off the couch.
Torya mentions her turbi twist that is for her hair. Mike discusses the Keurig and how it has made making coffee so much easier.
The flexi leash is another great invention.
Torya says that the Roku box is something she feels makes life easier. Since they've switched to streaming services they've found the Roku even more helpful.
They discuss the track meet. Alyssa got a PR in her mile.
Apparently they went to a new restaurant that is like a Chinese Chipotle. You pick a base, protein and toppings along with sauces. It was very delicious.
Mitchell is looking for Rit to dye his shoes. Apparently it is available at Walmart.
Yogi came to the meet. He was scared of the starter's pistol sounds. He was shivering. He can't come to track meets anymore.
The Nightly Rant Episode 87 Links Mentioned
Catch Yogi's Podcast Network on YouTube
Subscribe: