Some of the links in this post are affiliate links. This means if you click on the link and purchase the item, we will receive an affiliate commission at no extra cost to you. All opinions remain our own.

The Nightly Rant Episode 92 Summary
In this episode, Mike and Torya discuss Uber rides in Austin, Texas.
Listen to The Nightly Rant Episode 92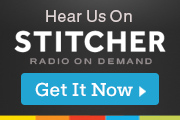 The Nightly Rant Episode 92 Show Notes
Mike begins the show discussing the Uber rides he has had while in Austin. He describes being picked up by a Toyota Tundra pickup truck. Hilarity ensues as his partner makes the comment "It really is true that everything is bigger in Texas." The problem is the drive was extremely tall and close to 400 lbs.
Mike describes being in an Uber pool ride where they picked up a couple. The lady portion of the couple practically sits on Mike's lap during the trip.
Mike then describes his visit to Rainey Street in Austin. He then explains his return trip on Uber. When attempting to get home from the restaurant they entered an Uber that contained a pair of women from Wisconsin. The women invited Mike and his partner to go bar hopping with them. They, of course, declined the invite. Once those women left, the drive picked up another pair of people. These were cross-dressers!
Mike explains that the final Uber driver of the day was extremely helpful and nice. He was like a tour guide.
Mike observed that in Texas many of the ride share people do not have stickers on their car indicating they are from Uber or Lyft.
Torya is in a fantastic mood (can you sense the sarcasm?). She says her day was boring and full of the same old stuff.
Mike describes almost losing an important password.
Mike tells Torya about all the dogs that he saw in downtown Austin.
Torya describes her play session with Yogi. Apparently she managed to keep him entertained.
Mike describes being awakened at 2 am by a phone call from a support center.
Mike discusses his interview with the Orange County Register. He is excited about that.
The Nightly Rant Episode 92 Links Mentioned
Catch Yogi's Podcast Network on YouTube
Subscribe: