Some of the links in this post are affiliate links. This means if you click on the link and purchase the item, we will receive an affiliate commission at no extra cost to you. All opinions remain our own.

The Nightly Rant Episode 108 Summary
In this episode, Mike and Torya discuss their visit to the roller derby.
Listen to The Nightly Rant Episode 108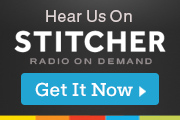 The Nightly Rant Episode 108 Show Notes
Mike and Torya begin the show discussing their visit to the roller derby. Mike says the ticketing and the setup were done very well. He says they could have done better by taking a few minutes to explain the rules and how scoring works. Torya says that would help because it was very confusing.
They discuss that it was a lot of fun, but it might be a little bit expensive. It would have been more enjoyable if they had been able to understand it. Mike suggests maybe they can help the company with its marketing. Torya offers them the ability to come on the show to help clarify.
Mike said he had fun because it was something different. He had never seen anything like it before. He felt it was very interesting.
Mike told Alyssa that Torya should be a roller derby woman and should be called Toryasaurus. Torya says if she was a dinosaur she'd be a black dinosaur.
Once again the animals interrupt the show.
Mike went into his stereotypical ideas about what these roller derby women would look like. He admitted he has no real reason to have those stereotypes.
Mike then compares this to going to a concert for a band you've never listened to. The music is good, but you don't totally get it. They continued to discuss the names of the roller derby competitors. There was Slayer Moon, Mother Chucker, Doom, Slammin Da Beers, and Dr. Speed.
Mike brings up the fact that Kailynn from Teen Mom has a podcast called Coffee Convos. Torya says she thinks Kail is a "giant dingus" so she doesn't care. The discussion leads to more about Teen Mom.
The Nightly Rant Episode 108 Links Mentioned
Catch Yogi's Podcast Network on YouTube
Subscribe: