Some of the links in this post are affiliate links. This means if you click on the link and purchase the item, we will receive an affiliate commission at no extra cost to you. All opinions remain our own.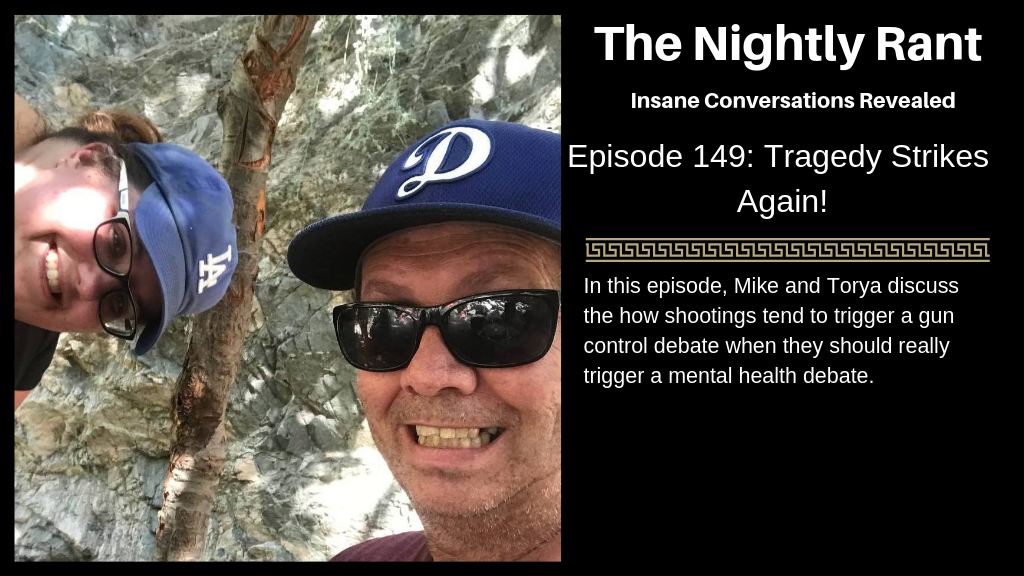 The Nightly Rant Episode 149 Summary
In this episode, Mike and Torya discuss the how shootings tend to trigger a gun control debate when they should really trigger a mental health debate.
Listen to The Nightly Rant Episode 149
The Nightly Rant Episode 149 Show Notes
Mike opens the show discussing the shooting that occurred. He says this will create another round of yelling and screaming about terrorism, gun control, etc.
They discuss the circus that was going from one council meeting to council meeting. Torya asks for more information. Mike explains what occurred.
Torya wonders why there are more shootings like this in the United States than anywhere else. Mike says some people say it is caused by the shadow government that is in existence. The "Deep State" is responsible. Mike suggests watching Scandal from start to finish to understand this better.
Mike says he needs to fix the problem wherein he doesn't hear certain things people tell him. Torya laughs and Mike tells her he is serious.
Mike asks if Torya thinks gun control would fix this. She says we don't know enough about this yet. She says the last shooting was all about mental health issues. Mike says that mental health issues cause these unstable people to act this way.
Mike says his instincts make him want to protect someone who is being attacked. He tells a story about a friend of his mom's who was raped.
Somehow they get on the topic of the In-N-Out Burger boycott. Torya says people need to take some time to think before they speak.
Torya describes the Canadian way of handling firearms licensing and safety.
They then discuss how important the mental health discussion is. They ask why it is never discussed when there is a tragedy like this one.
The Nightly Rant Episode 149 Links Mentioned
Catch Yogi's Podcast Network on YouTube