Some of the links in this post are affiliate links. This means if you click on the link and purchase the item, we will receive an affiliate commission at no extra cost to you. All opinions remain our own.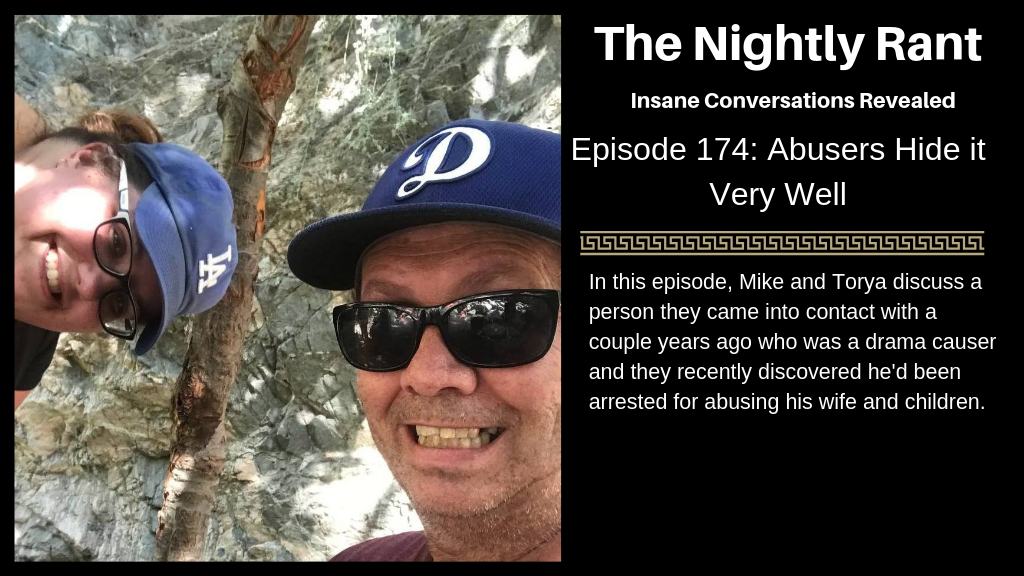 The Nightly Rant Episode 174 Summary
In this episode, Mike and Torya discuss a person they came into contact with a couple years ago who was a drama causer and they recently discovered he'd been arrested for abusing his wife and children.
Listen to The Nightly Rant Episode 174
The Nightly Rant Episode 174 Show Notes
First impressions are generally correct (0:10)
Mike says that his gut about people is generally right (0:20)
Mike discusses a person who they met that was totally obnoxious online and in person (2:10)
Apparently, this guy turns out to be an abusive husband and father (4:20)
If you want to know who this person is, you can subscribe to The Zoo Network and listen to The Nightly Rant Uncensored.
A discussion ensues about the Kavanaugh confirmation (10:50)
People need to learn to reserve judgment (14:00)
Trump is extremely corrupt (18:00)
Discussion about personal rights (24:10)
The Nightly Rant Episode 174 Links Mentioned
Catch Yogi's Podcast Network on YouTube