Some of the links in this post are affiliate links. This means if you click on the link and purchase the item, we will receive an affiliate commission at no extra cost to you. All opinions remain our own.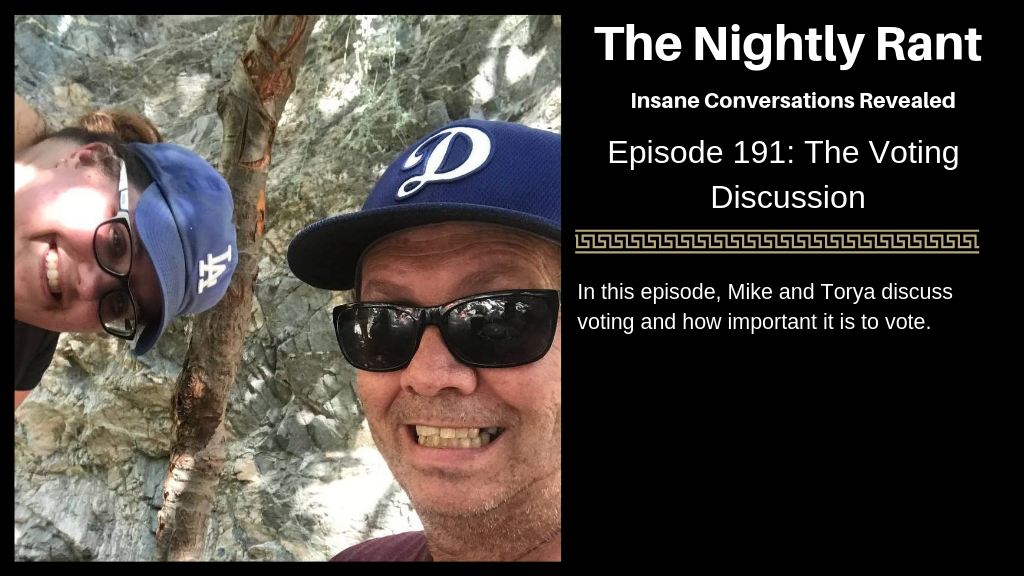 The Nightly Rant Episode 191 Summary
In this episode, Mike and Torya discuss voting and why it is so important.
Listen to The Nightly Rant Episode 191
The Nightly Rant Episode 191 Show Notes
It is the day after the election and there are still close to 500,000 votes left to count. Mike discusses how he checked and his ballot was already counted. No blue wave, no red wave, just a rainbow wave based upon the results.
Mike discusses how this is pretty normal for mid-term elections. He says these results are good for Trump.
Mike discusses Jeff Sessions resigning from his position as Attorney General. This has lead to speculation about what Trump will do with the special counsel and the investigation into collusion.
This leads to a discussion about the laws surrounding terminating people. They discuss the differences between the US and Canada. The laws are apparently quite similar.
Odie has been adopted and will be with Mike and Torya for another day and then he goes to his forever home.
Mike discusses The Buena Park News, a new local news site.
They then get into a long discussion about how Buena Park City Council Districts were drawn. Apparently it is split by equal number of residents, not registered voters.
Torya points out that in Canada you get automatically registered to vote based upon your last place you filed income taxes. She says this makes the voter rolls more accurate.
The Nightly Rant Episode 191 Links Mentioned
Catch Yogi's Podcast Network on YouTube