Some of the links in this post are affiliate links. This means if you click on the link and purchase the item, we will receive an affiliate commission at no extra cost to you. All opinions remain our own.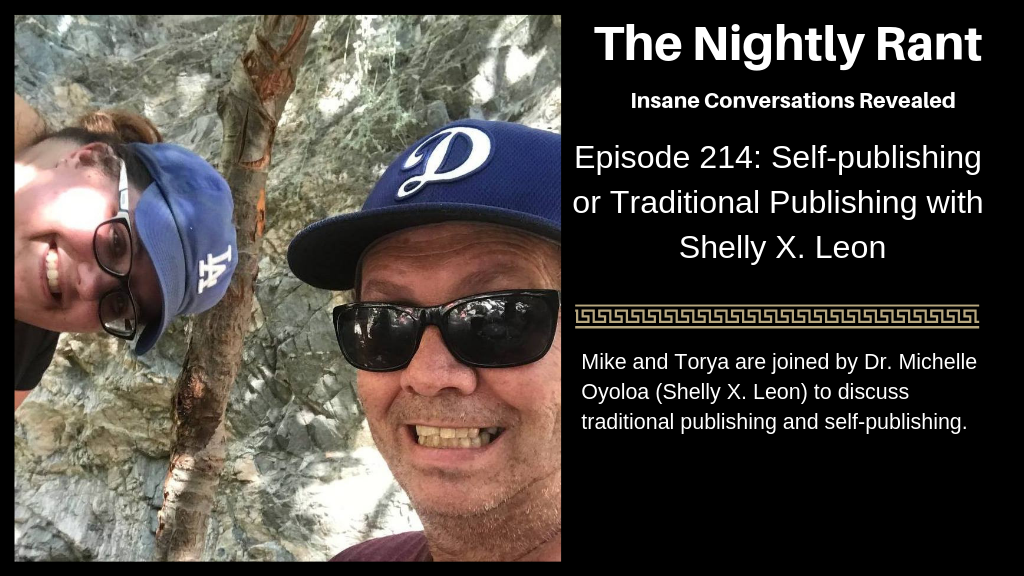 The Nightly Rant Episode 214 Summary
Mike and Torya are joined by Dr. Michelle Oyoloa (Shelly X. Leon) to discuss traditional publishing and self-publishing.
Listen to The Nightly Rant Episode 214
The Nightly Rant Episode 214 Show Notes
Our show notes are changing. We are now going to use summaries of the show content for you. Let us know what you think!
Mike talks about his interesting afternoon helping Alyssa record videos for her music video for school.
Mike introduces Dr. Michelle Oyola (Shelly X. Leon), their guest for this episode.
Michelle explains how she started her podcast, The Writers XL.
She discusses YouTube for writers, Wattpad.
Wattpad uses The Writers XL as a platform to get the word out about the platform.
Michelle explains that Wattpad is thought of as a bunch of Harry Styles fiction from fans.
She discusses how hard it was to publish a book and how she used Wattpad to get her book in front of people.
Her agent found her on Wattpad
Mike discusses what inspired him to start writing the two books he is currently writing.
Michelle discusses that many agents don't like authors who got started on Wattpad.
She says the Wattpad community helped her elevate her work to a level where an agent was willing to take her on.
They discuss Nanowrimo and how stressful it can be.
Michelle says that LL Montez, her co-host, loves Nanowrimo.
They discuss blogging and how it can be the worst and the best experience.
Mike discusses his difficulty writing in a fun style. He gravitates towards "professional" tone.
Michelle explains why Wattpad may not be a great place to go if you are an author
Michelle says that people who strike their own path are starting to become the success stories.
Mike discusses some decisions made on licensing on their podcast directory.
Michelle says that people who strike their own path are starting to become the success stories.
Michelle says the advantage of traditional publishing is that she has an agent to handle negotiations.
Michelle mentions that self-publishing is for those who are hungry.
About Dr. Michelle Oyola: Her nine years in St. Louis City education have been spent in middle school and high school language arts classrooms as well as in mid-level administration. She is also an adjunct professor. She and her two boys reside in Affton, and she enjoys reading, writing, outdoor activities, anime, video games, and other dorky pastimes.

Shelly is represented by Stephanie Hansen at Metamorphosis Literary Agency. Her debut novel will be published through Owl Hollow Press.
Podcast launch course coming soon — https://ElitePodcastAgency.com
Authors…find our whitepaper on "How to Market and Sell More Books Than You Ever Imagined" and sell a ton of books with the strategy we outline!
The Nightly Rant Episode 214 Links Mentioned
DrSXL.com – Dr. Oyola's website
Dr. Oyola's Instagram – https://instagram.com/shellyxleon
Dr. Oyoloas Pinterest user – shellyxleon
On Wattpad – shellyxleon
Catch Yogi's Podcast Network on YouTube